Greek Appetizers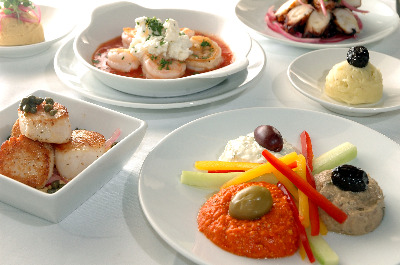 Want to go straight to our Appetizer Recipes Click Here
Appetizers are little portions of food to prepare your taste buds for a good appetite. Greek cuisine has a wide range of food which can be served either on their own as little snacks such as cheese pies or meatballs, along with many other foods and dips which are served before a meal but which can also be served as accompaniments to the main meal.
On this site you will find a great range of recipes to use for many different occasions.
There are 2 functions to appetizers in Greece.
When you go to a taverna in Greece, you will order your main meal, then you order all your side dishes, for example dolmades tzatziki melitzanosalata, etc. The waiter will arrive with a huge wooden tray full of little white plates of delectable foods and place these in the centre of the table. Greeks will rarely have an appetizer to themselves, instead the plates sit in the middle of the table and everyone will help themselves or dip in with fresh bread whilst talking and enjoying the company.
Eating is never a rushed affair in Greece!
They will often make sure to keep some of these plates of food to have with their main meal or order other sides as accompaniments to their meal.
The other function of appetizers is as a meze or mezedes (plural).
Greeks don't drink alcohol without food and these mezedes are created to have along with the drinks. A meze can range from very simple to an elaborate platter. These can be served in tavernas or even bars will have a selection of mezedes to serve with their drinks.
If you go to a fish retaurant to have a bottle of ouzo and order a platter of mezedes you will most likely get an assortment of different fried fish, along with some tomatoes and cucumber and often a dip of some sort, such as taramosalata. Another option for a platter would be mini cheese pies, dolmathes, meatballs, fried zucchini, some bread and a dip or two.
Many of these easy appetizer recipe are ideal to use when having a party and you need some appetizer party food.
When preparing a meal at home, don't be put off by the idea of cooking so many different foods. Some easy appetizer recipe ideas are the simplest. A thick slice of feta on a small plate, drizzled with olive oil and a sprinkling of oregano, a small bowl with a selection of olives, a couple of dips such as tzatziki, hummus, or melitzanosalata and of course a basket brimming with fresh crusty bread will make a great arrangement!
Kali Orexi - Bon Appetit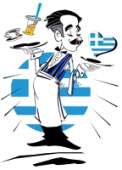 Greek Appetizer Recipes
A simple slice or two of your favorite
Greek Cheese
makes a delicious appetizer.
Now you can buy all your favorite Greek cheeses, such as Kefalotiri, Mizithra, Kasseri, Kefalograviera, Feta and Manouri.
SHARE
Share this page with your friends on Facebook


Return from Appetizers to Home Page