GREEK MEAT RECIPE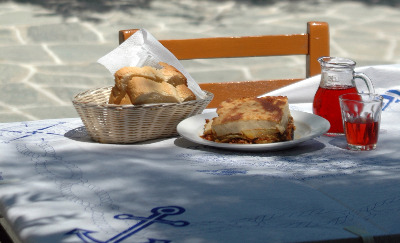 Although some meat recipe meals such as moussaka and souvlaki have become as famous outside of Greece as in the country, it really is worth trying a few not so famous recipes to get a real taste of Greece and its cuisine.
The Greek cuisine reflects the history of the country of Greece itself.
Greece has seen rich abundant times and has also had its fair share of poor, frugal times and this reflects in the traditional Greek meals.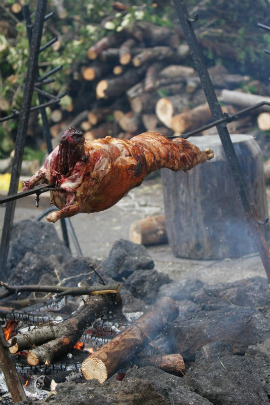 Consequently you will find hearty meat meals such as the whole lamb on the spit at Easter, and stuffed pork, which are rich indulgent meals. The other type of meat meals are based on casseroles and stews which originally relied on legumes and vegetables to fill out the meal, but of course now are included because of the wonderful flavours these dishes create.
One of the most notable things about Greek meat recipes are the delicious flavours that are created by some simple methods of seasoning the meats and the sauces the Greek food is cooked in.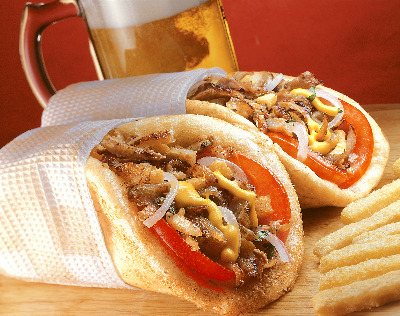 Most of the sauces are either tomato based or use another fantastic Greek sauce, the egg and lemon sauce - avgolemono, which gives the meal a sharp creamy flavour and can transform an otherwise plain meal into superb.
Herbs are used frequently,spices less so, garlic, olive oil and lemons are used abundantly in many meat recipes to impart a unique flavour to the dishes that is Greek Food.
Kali Orexi - Bon Appetit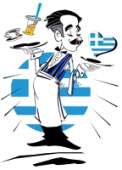 Greek Meat Recipes
Moussaka Souvlaki Leg of Lamb Recipe - Arnaki Vrasto Lamb Fricassee Lamb with Fresh Peas - Arni me Araka Lamb on the Spit - Arni Sti Souvla Beef Stew Recipe - Stifado Beef and Spinach Casserole - Moshari, Spanaki Avgolemono Pork Recipe with Leeks - Hirino me Prasa Pork with Broad Beans - Kreas Fasolia Xira Kokoretsi Stuffed Eggplant and Zucchini - Papoutsakia Greek Meatballs - Keftedes Pork in Red Wine - Afelia Avgolemono Sauce Stuffed Peppers and Tomatoes - Yemista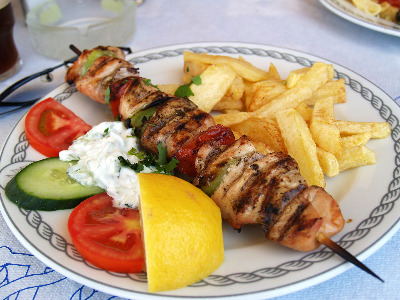 History of Meat in Greece
Lamb is one of the most popular meats in Greece. This is due to the Greek terrain. The country's hilly, barren landscape is more suitable for sheep and goat. There's not a lot of flat fields or grazing space for cattle, so beef became a rare, expensive meat and lamb and goat were more available.
Goat were easier to breed, and along with sheep, were raised not only for their meat but also for their milk. It is the goats milk that was traditionally used for making feta. Until recently, sheep's milk was far more popular than cow's milk.
Meat was scarce in such a country that has lived through many years of poverty. Meat was therefore mostly used for and associated with religious feast days and special occasions.
During Easter, Lent will involve giving up a food for 40 days, a religious tradition still upheld by many in Greece, and meat is usually the item that is forsaken. This fast is ended and Easter celebrated with spit roasting an entire lamb.
In the home, with meat being rare, offal and organ meat was more likely to be eaten. This diet of eating less meat, more fish and plenty of legumes and vegetables is the basis of the healthy Mediterranean diet.
This way of eating is still popular today, and the average Greek family would eat meat only 2 or 3 times a week, fish maybe twice a week and at least 2 days a week the meals would be without meat, using vegetables and legumes as the main meal.
Pork is also a popular meat, as again a lot of land is not necessary for keeping pigs.
Lamb and pork tended to be rather tough as it wasn't able to be hanged for aging due to the heat. Because of this, a lot of meat recipes used these meats in a stew, using acidic ingredients, such as lemon, tomato or wine to tenderise it, as well as cooking the meat slowly for a long time. These acidic ingredients also help to balance the large amount of olive oil in the recipes.
Chicken has been a popular meat for a long time in Greece. Many families, with a small garden would keep a few hens, for their daily supply of eggs as much as the meat. Most chickens in Greece are free-range and are very tasty.


Return from Meat Recipe to Home Page