Greek Food Blog
Welcome to the Greek Food Blog.
New and exciting Greek Food Recipes and articles are added all the time. With so many Greek Recipes already on line, this blog will point you to the newest recipes the moment they are added.
We will also point out some of the traditional favourites that you might otherwise have missed.
To subscribe to my Greek Food blog (no e-mail necessary), right-click on the orange RSS button (see bottom buttons to the left) and then paste the URL into your RSS reader. Or click on the Google, My Yahoo! button My MSN button, newsgator, or Bloglnes button if you keep a personalized home page there.
If you are not sure what RSS and blogging is all about, click on the question mark beside "Subscribe To This Site." Once you start, you will be amazed at what RSS can do.
Visit often so you don't miss any new Greek Food Recipes.
Greek Ouzeri Restaurant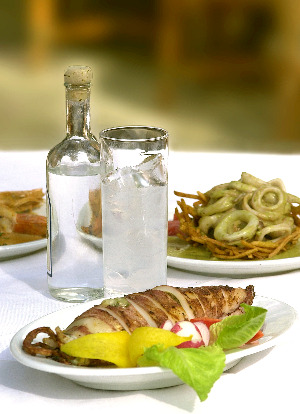 Spend an evening at a Greek Ouzeri for a truly enjoyable Greek experience, drinking Ouzo, snacking on Mezethes and listening to