WHEN AND HOW GREEKS EAT
The Greek lifestyle is reflected most in the food the Greeks eat and when and how Greeks eat.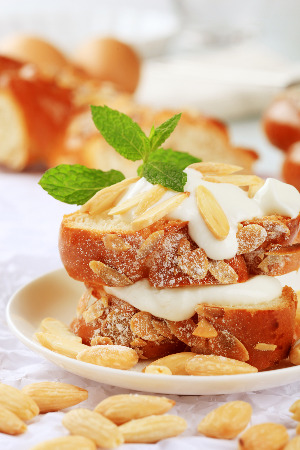 You can always tell a lot about the lifestyle of a country, the way of life, by seeing how they eat.
How Greeks eat is a very different pattern to other countries.
The western world have had it drummed into us to always have breakfast, normally packaged cereals or toast with jam, or the English breakfast of fried eggs, sausages and bacon!
For the midday meal, a packed lunch of sandwiches or a roll.
Then our biggest meal of the day will be in the evening, followed by falling into bed within a few hours afterwards.
The Greek way of life has always been to eat their main meal of the day at midday - a much healthier time to eat.
So lets have a look at the traditional way of how Greeks eat.
Breakfast - Proino - Greeks start work early - necessary in the summer in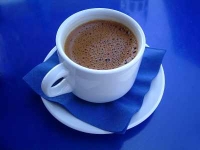 order to finish early to miss the heat of the day. Breakfast is not the important meal of the day as we are taught from young.
They have not had it drilled into them that it is bad to skip this meal, as many of them do! Breakfast is usually a cup of coffee, (for most adults - accompanied with a cigarette!). Occasionally, they may have a slice of sweet bread, such as tsoureki, or a sweet bread roll to eat with their coffee.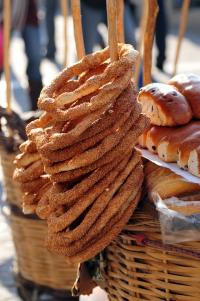 Most of the time, Greeks will stop to buy something on the way to work, for a mid morning break, or on the way back from the markets, such as a tiropita - cheese pie or a koulouri - a bread ring, a little like a bagel, covered in sesame seeds, that you can find from street vendors all over Greece.
Dinner - Mesimeriano - the midday meal has always been the main meal of the day, although the Greeks won't sit down to eat until about 2pm.
Shops and businesses have traditionally always closed at 2pm. At this time, all Greeks would go home to have their main meal of the day. Everyone would come together to sit down and spend some time together at the table, leisurely eating their way through several courses or plates of food.
There would be plates of appetizers, salads - the Greeks wouldn't consider a meal complete without one type of salad or another on the table, and a main meal such as meat, fish or a baked dish such as Stifado or Moussaka. There would be a basket of thick slices of crusty bread. A caraffe of red wine would complete this meal.
After this hefty meal, they would have a siesta, and lie down for an hour or two, to rest, to digest their meal and in the summer months to get a break from the heat.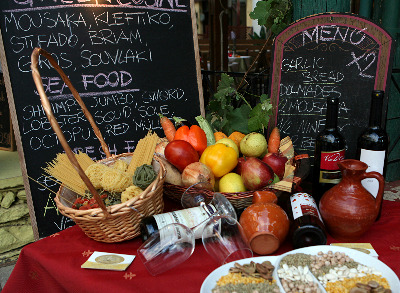 Siesta's normally lasted from 2-5pm. If Greeks were having their meal at a Taverna, they could easily sit there for 2 or 3 hours, taking their time over their food, and enjoying the company.
Eating is never rushed in Greece!
Some evenings, shops and businesses would then re-open from 5.30 - 8.30ish. Some would return to work at this time, others may go out shopping, making the most of the cooler weather in the summer months.
Tea - Vrathino - The Greeks would often meet to eat their evening meal about 8.30 - 9.00pm. This would be a lighter meal than the midday dinner.
If eating at home, they may have an omelette, some baked or steamed vegetables or a Greek Salad with feta, possibly with tzatziki and some crusty bread. They may have a Greek dessert such as Galactoboureko or another delight they have picked up from the Zacharoplasteion. Another favourite is Greek yogurt, with honey and pistachios.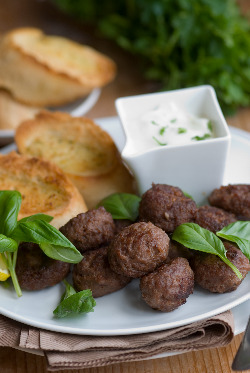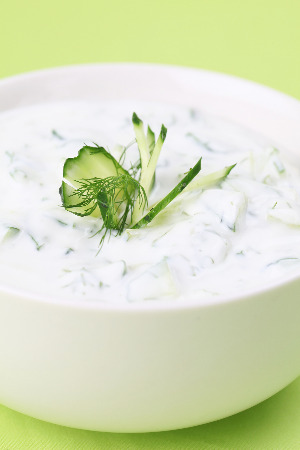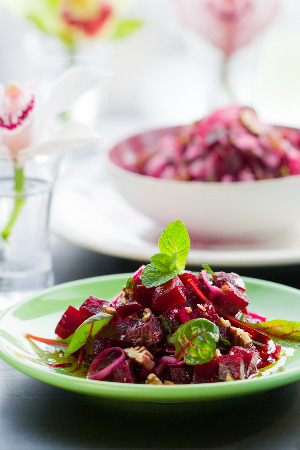 If they are eating out at a taverna and it is a celebration, then they would eat a lighter meal at lunchtime and have a large meal in the evening. Again, the waiter would bring plates and plates of appetizers, salads and mains for all to share. At a taverna, there are always lots of little plates, and it is custom for everybody to share and have a taste from all the plates.
When eating out in the evening, Greeks would rarely turn up at a taverna before 9pm, in the summer it could be as late as 10 or 11pm.
(In the summer, it really is too hot to eat early in the evening, and having had a siesta, they are ready to do work or other activities before stopping to eat again.)
The Greeks will make a night of it once they are out, eating and drinking for hours. Taverna owners expect this, and are not standing over them waiting for them to leave at 11.00pm like they do in other countries!
Going out is a family affair and it is quite common to see families with young children going out to a taverna at this time. Children will be accepted and included in everything. You won't see the children sitting off on a separate table being ignored by the adults. When the children get tired they may have pushchairs for the little ones to sleep in. You will find the older children are used to staying up late, they also have their siesta to rest at midday, and soon learn to keep up with their family.
Greece is a family orientated country and will fuss over all children. If you take your children along to a taverna with you, you won't have anyone telling you that you can't dine here because you have children and you will find the Greeks will probably fuss over your kids more than you do.
In the winter months, although not quite as late, it would still be at least 8pm before any Greeks would consider going out to eat.
As the way of life changes, so too do the habits and lifestyle of people.
Many Greeks living in the cities are now having to travel further to their jobs and for some it is no longer convenient to stop work for 2-3 hours, go home and eat and then return to work.
Because of this, and with Greece now being part of Europe, and conforming to European hours, more and more shops and businesses are not closing at midday and re-opening later, instead they are opting to stay open all through the afternoon and some evenings as well.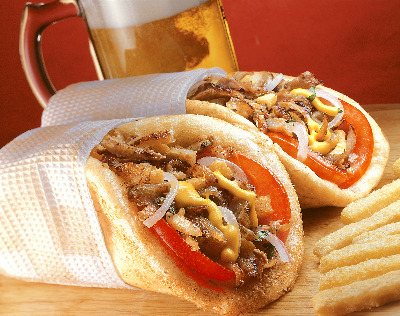 This lifestyle change has an effect on how Greeks eat.
Although they haven't yet gone over to mass packaged and processed food, fast food places, alongside souvlaki and pie shops are appearing to cater to these workers.
Habits die hard though, and many Greeks who now have to work all day through, will take some Greek food to work with them, cooked from home, complete with salad and bread, to still eat the way they are used to.
Return from How Greeks Eat to About Greek Food