TSOUREKI - GREEK EASTER BREAD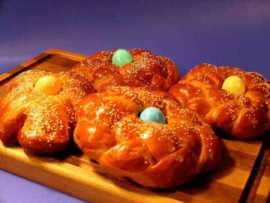 Tsoureki is one of many traditional recipes made at
Easter in Greece.
Tsoureki is a Greek Easter bread recipe, that is made during holy week - Megali Evdomatha, ready to have over the long Easter weekend. It is a slightly sweet bread that can keep for longer than normal, fresh bread. It is also known as Pascha Bread.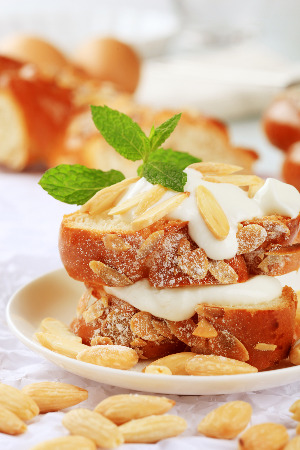 This bread is traditionally made as a plait using 3 ropes. The 3 dough strands plaited together symbolise the Holy Trinity. Placed along the bread are 2 or 3 red eggs - kokkina avga, another greek Easter tradition), which represent the blood shed by Christ. You can find red dye at most continental grocery shops, follow the instructions on the packet for boiling the eggs in the dye. For variety, you can dye some eggs different colours!
There are as many tsoureki recipes in Greece as there are regions. Here is one of many recipes I have used which I like to use as a base and often change the flavourings to add variety.
You can, of course, make this bread at any time of the year, you don't have to wait for Easter to enjoy this wonderful bread. I love it sliced and toasted with a thin smearing of butter on it for breakfast. It is delicious.
Ingredients
1280g flour
2 tablespoon yeast
225g butter, melted
1/2 teacup caster sugar
6 eggs
1 full tablespoon zest of orange
190ml milk
1 level teaspoon salt
1 level tablespoon muhlep - see below for alternatives
1 egg lightly beaten
finely chopped blanched almonds,
sugar
Preparation
Heat the milk to just lukewarm, pour in a small bowl and dilute the yeast into the milk.
Add 1/2 teacup flour to the milk and mix in well until it becomes a paste.
Cover and leave it to rise, it will become frothy.
In the meanwhile, in a large mixing bowl add the flour, salt, and melted butter.
Add the eggs into the flour without beating them first. Add the sugar, orange rind and any spices used.
Finally add the yeast mixture to the bowl and using your hands, knead it all together to create a soft dough. Knead it until it is soft and elastic.
Cover the bowl with clingfilm and place in a warm area and leave until the dough rises and has doubled in size.
Knead again until the dough is smooth.
Cut the dough into 6 equal portions.
Take 3 of the portions and roll each one out to become a long sausage shape.
Use the 3 strips to create a plait. Pinch each end together and place on a lightly greased baking tray.
Repeat with the other 3 portions to make a second loaf.
Cover the tray with a cloth and place in a warm place and leave to rise until doubled in size.
Brush the top of the loaves with the beaten egg and then sprinkle with the chopped almonds and a sprinkling of sugar.
Bake in a medium oven for approximately 30 minutes.
To test if its ready, tap with your knuckle the underside of the bread, if it sounds hollow, it is ready.
Avoid overbaking, as these breads can dry out. Leave to cool completely on a wire rack.
Once cold, wrap in cling film to maintain freshness and to keep for longer.
Muhlep is the ground kernels of cherry stones. You may be able to find them in middle eastern style grocery stores.
If you are unable to find muhlep here are a variety of alternatives you can use that are all used in various other tsoureki recipes I have used.
Replace the muhlep with
1 1/2 teaspoons aniseed, OR
1/2 teaspoon cardamom and 1 teaspoon cinnamon, OR
1 1/2 teaspoon allspice and 1 teaspoon cinnamon, OR
1 tablespoon Ouzo and 1 teaspoon cinnamon, OR
1/2 teaspoon ground aniseed and 1/2 teaspoon allspice and 1/2 teaspoon cinnamon.
For Easter tsoureki, you can place a couple of boiled eggs dyed red or other colours, along the plaited loaf, before cooking. Push the egg into place between a couple of strands of the plait. This is just for looks, we do not eat these eggs as they have been cooked twice.
Kali Orexi - Bon Appetit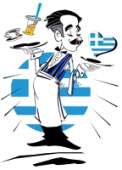 If you don't have the time to make our delicious Greek Easter Bread - Tsoureki, you're in luck, you can now buy this bread online, have it delivered and it tastes great!
Impress your friends and family and they won't know the difference!

Return from Tsoureki to Easter in Greece
Return from Tsoureki to Greek Bread