EATING OUT IN GREECE
"I love eating out in Greece!"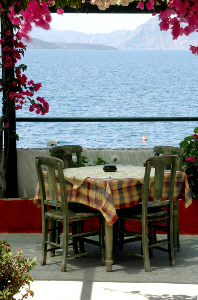 Eating out in Greece is never a rushed affair, more of an occasion, where time slows down, meals are eaten whilst talking and enjoying the company.
Greeks love to eat, they live to eat, food is always appreciated, a celebration, to be savoured and enjoyed, preferably with good company.
Greeks also love to go out to eat, any occasion is a great excuse to gather with friends or family at a local Taverna and while away a few hours or an evening with food and company. As there are so many festivals, name days, religious holidays to celebrate, eating out in Greece becomes a regular outing!
Until recently, eating out in Greece at a taverna was a very cheap way to go out to eat and so it was affordable to all Greeks.
Where to Go and What to Expect
Greeks are not known for their quiet, demure, formal ways and eating is definitely no exception. Casual is the order of the day when eating out in Greece, which suits the Greeks just fine. Spirits are high, talk is loud, lots of laughter and cheers will regularly burst from tables, food and drink will seem to flow for hours. Everyone is friendly, cheering and even calling out to other diners. The atmosphere can be electric, the laughter and joy infectious. For a few hours, you can forget all the troubles of the day, relax and enjoy life!
Taverna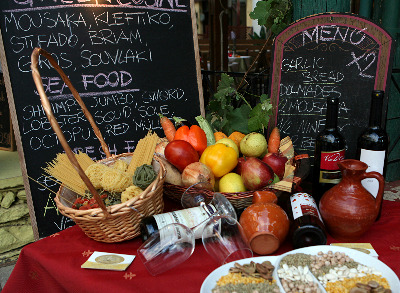 These are the most popular places to eat out in Greece and where you will find excellent Greek traditional cuisine. They started off just a few meals being cooked in a home kitchen and has slowly evolved from there, being a place to eat, and to congregate, an extension of their own homes in a way.
When you go to a Taverna, you'll be taken to a table and immediately served with a basket brimming with thick chunks of bread.
You don't ask for the bread, its just assumed you will want it with your meal and a small charge will be put on your bill. Some tavernas will have a menu, though most don't!
There may be a board with the specials of the day or the waiter will tell you what's on offer and recommend the best meals. The popular appetizers such as Tzatziki, Taramosalata and of course Greek Salad are normal everyday fare, with a few cooked meals being the specialties. You may be invited to go to visit the kitchen to choose your meal - this is a common practice in Greece.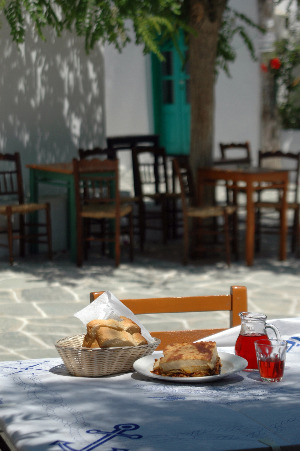 Eating outside is preferred in Greece for as many months as possible. Wicker seated chairs and rustic tables can be seen spilling out into gardens, courtyards and even onto the pavements.
A wonderful evening is to just sit at a Taverna, watching as the rest of the town stroll by.
A typical setting of the Taverna table will have lots of little plates of different appetizer foods, and everyone will dip in and share. The main course is usually served with a bowl of Greek Salad, again for all to share and possibly hot chips. Drink
will usually be beer, Ouzo or wine. Wine is normally a house wine served in caraffes.
Greeks rarely eat dessert after a meal, sometimes fruit or an ice cream. The Greek desserts are actually eaten at other times of the day on their own.
There are some Taverna's specialising in different types of food. A Psistaria serves charcoal grilled meats or meats cooked on the spit.
A PsaroTaverna will specialise in fish meals. These will be found near the harbours and always serve freshly caught fish.
Read more about the Greek Taverna
Estiatorio
This is the Greek name for a restaurant. As opposed to a Taverna, an Estiatorio is supposed to be more "finer dining". It will still be Greek meals, maybe more refined modern food. There will be tablecloths and the setting and buildings better decorated. You will have a menu and table settings. They are also much more expensive.
Ouzeri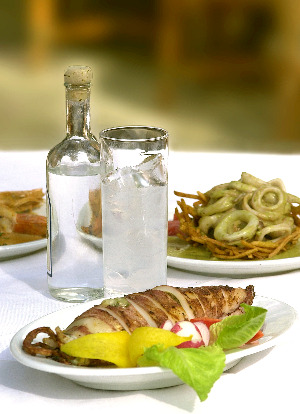 The Ouzeri restaurant is like a mix of a bar, taverna and bouzouki club.
Primarily specialising in the Greek national drink of Ouzo, although they do sell other alcoholic drinks too.
The Greeks never drink alcohol without food or nibbles to eat, even just little bites of food to counter the effects of the alcohol.
Because of this, the mezethes became popular - platters with an assortment of little bite sized pieces of food. A mezethes is a great way to have a little taste of a lot of different Greek appetizers at one time!
As always with food and drink, music is never far behind and you will often find live Greek music at an Ouzeri. A great place to hear the bouzouki!
Visit an Ouzeri for a great authentic Greek evening, with some irresistable Greek food, experience the unforgettable taste of Ouzo whilst listening to Greek music!
One tip - go to an Ouzeri that is frequented by Greeks - not aimed at tourists!
Read more about the Greek Ouzeri.
Greek Fast Food
These are the original fast food sources for Greece. So much tastier than the burgers and chips variety!
Pie Shops
Pies - Pittas are the ultimate on-the-go snack, the most popular Greek street food. You will find these outlets everywhere. You will probably smell the aroma of freshly baked pies wafting down the street! Made from flaky filo pastry and tasty fillings, they are the perfect snack when you're in a hurry and want to eat and run!
The most common types of Greek pies are feta cheese pies - Tiropita, and cheese and spinach pies - Spanakopita. There are many others such as pumpkin pie Pumpkin Pie - Kolokithopita
Then you have sweet pies, Bougatsa - with a thick vanilla cream filling, as well as fruit filled pies, and Galactoboureko - Custard Pie.
They are almost always made of filo pastry, which is flaky and crumbles in your mouth as you eat it. They are individual parcels served simply with a napkin.
Most Greeks will buy a pie and eat it as they are walking, it is not really a sit down snack. Greeks will grab a pie for breakfast on their way to work, as a light lunch or even whilst out shopping to keep their energy going.
You must try a couple of different pies when in Greece. They are delicious and taste nothing like the pies you would have had before!
Souvlaki Shop - Souvlatzithiko
You will find Souvlaki Shops in every city, town and village. Souvlaki are filling, fantastically tasty and cheap.
Rarely would you buy souvlaki to sit in and eat, you would buy and take away to eat as you stroll along. They are one of the most popular types of Greek street food.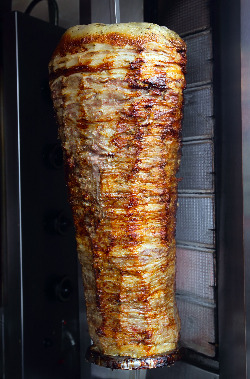 A Souvlaki is made up of meat - normally pork, cooked on a vertical spit, where layers upon layers of thin slices of meat are speared with a skewer - souvla. This is then upended and placed in front of a vertical grill. It slowly turns cooking and basting the meat to produce a wonderful, mouth watering, melt in your mouth, tastiest meat. This style of meat is called Gyros.
The Souvlaki is made with pita bread. Spread with tzatziki and a layer of thin slices of tomatoes and onion. Slices of meat from the gyros is added and sometimes a few hot potato chips. Its then all tightly wrapped up, covered in a greased paper ready to hold and eat.
Chicken souvlaki is also becoming very popular these days and many shops will sell both the pork and chicken souvlaki.
You must try one of these when you are in Greece.
Read more about Greek Souvlaki Shops
Bakeries
You will find a bakery in every neighbourhood, almost every couple of streets in some busy areas. Not only is bread eaten at every meal, it also plays a huge religious significance. In a religious country such as Greece, there is a special bread to be made for every Christian occasion.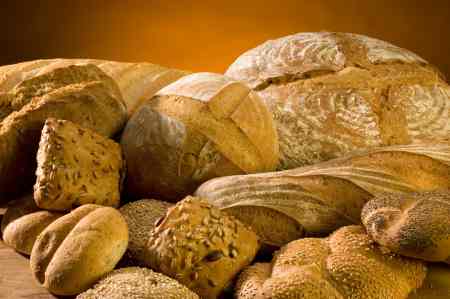 When you are in Greece, you must visit a Greek bakery.
The Greek bread is very different to any bread you would have tasted at home.
There are many other treats to eat for snacks in Greek bakeries. Some will sell pies, there will be sweet and savoury rolls, paximathia rusks, biscuits and cakes. Just the aroma drifting down the street will surely have your taste buds watering and pull you in before you even realised you were hungry!
Read more about the Greek Bakery
Zacharoplasteio - Greek Desserts Shop
Although not exactly a place for eating out in Greece, I had to mention this one for you to visit and buy some lovely Greek Sweets and Desserts.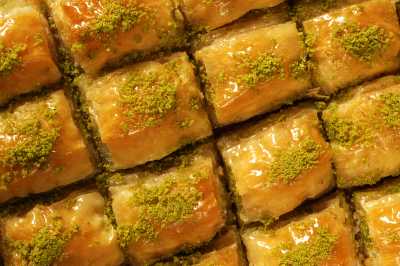 You simply cannot leave Greece without tasting some of their sweet honey dripping, tempting desserts. Baklava, Kataifi, Galactoboureko. Karythopita, Yiaourtopita, Melomakarona, Kourabiethes. Shocolatina, Ekmek. Just a few of the many delicious desserts you can try!
The Zacharoplasteio is the best place to buy these desserts. There are desserts made with filo pastry, or sponge cakes. Some are soaked and drizzled in the honey cinnamon syrup. Others are melt in your mouth sponges, with different sauces or icings.
Everyone needs a little indulgence once in a while - treat yourself to one of Greece's finest desserts - you won't be disappointed!
Read more about the Zacharoplasteio
Cafeneio - Greek Coffee Shop
Not a place to eat, but definitely a traditional Greek coffee shop.
Until very recently these cafes were the domain of men only in Greece.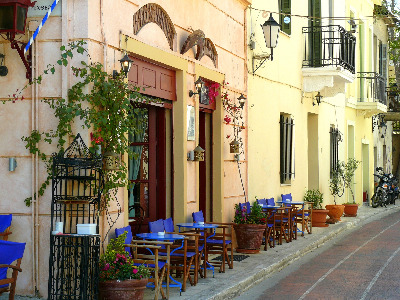 Every town square and neighbourhood would have a Greek Cafeneion and any time of the day you would see Greek men sitting gathered at tables, both inside and out, sipping their Greek Coffee.
It was a place to socialise and hear the news and gossip of the village, as well as a haven to escape the domestic life!
A popular pastime would be to play backgammon - Tavli, others would play cards, read the newspapers or watch the television on the wall.
Retired men would idle away hours at a cafeneion, just sitting, contemplating life, watching the world go by, discussing politics, philosophy among many things, all the time playing with the traditional worry beads!
They are very basic establishments, with little decoration and full of smoke but maybe because they were just visited by men, there was no need for anything more.
It is unsure if women weren't allowed to visit these cafe's, certainly they were discouraged from doing so, but I believe they probably didn't want to - far better to get rid of the men and enjoy a coffee at home with other women, and to catch up on their latest gossip in more pleasant surroundings!
Cafeteria - Greek Cafe's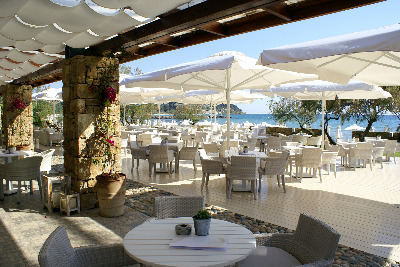 The modern cafeneions serve a wide variety of drinks
Greek coffee, hot chocolate, Frappe - Iced Coffee, soft drinks, milk shakes, as well as alcoholic drinks.
Snacks - toasted sandwiches, pies, mezedes etc,
Greek sweets, desserts and ice-creams.
They will be in the centre of the town, town square, beside the harbours or anywhere that Greeks congregate.
You will notice them as they have a large amount of outdoor seating, with awnings for shade from the sun.
This is now the place for all Greeks, especially youths to meet up, to socialise, to see and be seen!
Its a wonderful place to sit with a frappe, escape the sun for an hour and watch the activity and the hustle and bustle of the streets of Greece.
Street Stall Holders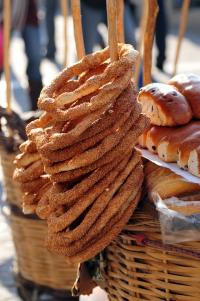 In any busy street corner you may find a man selling Kulurakia.
These are thin rings of bread snacks, (they look a little like a bagel) covered in sesame seeds. A kuluraki is a popular quick snack to eat whilst on the go to keep hunger at bay for an hour or so.
Most of the time, these will be set up on a makeshift crate or barrow to be moved as soon as the food has been sold. Sometimes they will also sell sweet bread rolls.



What's Your Favourite Place for Eating Out in Greece?
Do you have a great story about eating out in Greece?
Did you have great food, a fantastic setting with beautiful views, the entertainment or just great company?
Tell us when and where it all happened!
We'd love to hear all about it!
Your Tales of Eating Out in Greece
Click on the links below to read Stories of Eating Out in Greece submitted by other Greek Food lovers to this page...

Theo's in Crete

My husband and I just arrived in Santorini this afternoon, but we already miss Theo!
Theo is the chef, manager, concierge, host with the most at Alexi's …
The best lunch! (one of....!)

My husband and I love Greece and her islands and have visited many - admittedly we do not do enough sight seeing (we get waylaid by the beaches) but I …
Return from Eating Out in Greece to Greek Food Home Page