SUGAR COOKIE RECIPE
KOURABIETHES
This easy sugar cookie recipe - Kourabiethes is a traditional recipe that people all over Greece make at
Christmas
time.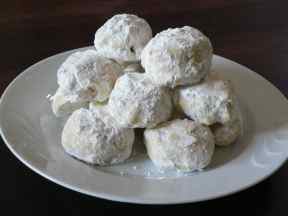 Greek food is such an integral part of the Greek lifestyle so its no surprise that there are some delicious sweets that are made in Greece especially for celebrations throughout the year, not only for Christmas, but also for Easter and other occasions.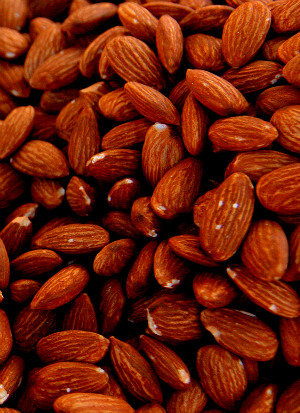 The sugar cookie is one of these, it is an almond cookie, filled with crunchy pieces of almond, coated in dry icing sugar. It is enticing just to look at it and fits in so well with many celebrations. At Christmas we think of snowy peaks, for Easter and Baptisms, the pure white icing reflects the new born. The cookie is also white and pure looking and so tempting, few can resist them. It is popular with young and old alike.
The secret with this sugar cookie recipe is to leave them until cold and then roll them in plenty of soft icing sugar. Also when storing they need a lot of icing sugar packed around them.
You will find all households over Greece, filled with the aroma of the delicious sugar cookie recipe being baked, along with many other sweets that are traditionally made at Christmas.
This recipe makes about 65 cookies! If you want to make a smaller amount, halve all the ingredients.
Ingredients
600g butter
400g blanched almonds, chopped coarsely and roasted
1/2 teaspoon baking powder
230g icing sugar
50g brandy
1.2kg plain flour
icing sugar
Preparation
Firstly, chop the almonds coarsely, you can do this in a processor but make sure they are not reduced to crumbs, we want them to be small pieces that you will taste and crunch in the almond cookie recipe.
Next, to roast the almonds, I prefer to dry roast them in a frying pan. Taking great care stir them in the frying pan until they just start to take colour, then remove them from the heat and place on a plate until needed.
Be very careful as they can burn extremely quickly and then are of no use as they will give the sugar cookie a burnt flavour.
Beat the butter and sugar together in a large mixing bowl with an electric mixer until soft and fluffy.
The more you beat it the lighter the kourabiethes will become.Sieve the flour and baking powder into the butter mixture.
Fold the flour gently into the mixture using a metal spoon, until only just combined.
Add the brandy and almonds and again stir it through the mixture carefully until it is all combined.
At this stage you may need to knead it a little with your hands to make a dough that sticks together.
Take a small handful of the dough in your hand and roll it into a ball.
Place it on a greased baking tray and then flatten the ball slightly.
Repeat with all the dough.
Place baking tray in a preheated oven of 180 C for 15 - 30 minutes, you need to check them to see when they are just taking a colour, then they are ready, be careful not to overcook them as they will become hard.
Remove from the tray and let the Kourabiethes cool down completely.
Take a plate and pour a good thick quantity of icing sugar over the plate.
Next, taking one sugar cookie at a time, roll it all around in the sugar until it is completely covered.
Repeat with each cookie.
To serve, pile the cookies in a mound on a serving plate, pyramid style and sprinkle more icing sugar over the pile.
As long as these cookies are completely covered in icing sugar and are in an airtight container or covered with cling film they will last quite a while. (unlikely though, if you have sweet eaters like I have in my house!)
When storing them in a container, sprinkle plenty of icing sugar on the bottom before placing the kourabiethes on top.
You really must not skimp on icing sugar with this soft sugar cookie recipe. The sugar cookies have a lovely almond taste but the icing sugar is what finishes it off and gives it that exquisite taste.
Kali Orexi - Bon Appetit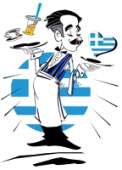 Return from Sugar Cookie Recipe to Greek Desserts