CHRISTMAS IN GREECE
Christmas in Greece is celebrated a bit differently to other countries. There is a refreshingly lack of over commercialism around Christmas. For example you do not see xmas trees, decorations, gift ideas etc in the shops until the very end of november or more likely into december itself. Some Greeks will decorate a tree and also the house itself, but again this is not done until only a short time before Christmas.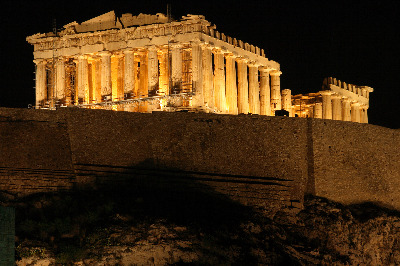 These are traditions that are slowly being adopted for Christmas in Greece from other western countries.
Although the Greek Christmas Day is still celebrated on December 25 for the true reasons of Christmas, they actually exchange presents on New Years Day. New Years Eve is the night when Santa or Agios Vasilis as he is referred to in Greece, visits and leaves the presents for all the children.
On Christmas Day, many families have now adopted the western tradition of having a roast turkey, along with exotic stuffings, roast potatoes and vegetables and of course, a salad. This tradition has slowly become more popular since the early 1980's. Before that, other meats, in particular pork, were roasted for Christmas lunch.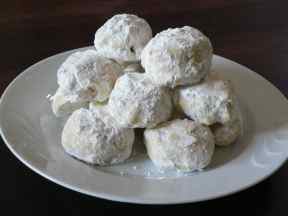 Plum pudding is not known in Greece. They will either have a wonderful dessert from a Zacharoplasteio - Cake Shop or one of the seasonal cookies that are found in every home at Christmas in Greece. Two of the most popular cookies baked at christmas are melomakarona, a lovely cookie drizzled with an aromatic honey syrup and sprinkled with walnuts.
The other is kourabiethes, a sugar almond cookie, made from almonds and coated in white icing sugar, an delicious shortbread. No home can be found without a plate of these homemade cookies to hand for when visitors come calling, and they become a good discussion point as every one has a different recipe and they will discuss the merits of the various recipes.
One of the special Greek bread baked at this time of year is Christopsomo - Christmas Bread. This is a slightly sweet bread. I love to eat it with just a slither of butter on it for breakfast, it is delicious, but the greeks will eat it with all sorts of food at all times of the day.
This bread is also practical (and the reason no doubt, for its creation) as it keeps for much longer than normal fresh bread. If covered with cling film it will easily keep for a week - not that any loaf of christopsomo has lasted that long in my household - we love it too much, but I will make a few loaves to store for over the holiday period.
The week leading up to Christmas in Greece is unusually calm compared to other countries. This all changes after Christmas Day.
From Boxing Day until new year, that is when everyone can be found out at the shops, doing their gift shopping, as well as taking part in any celebrations going on, visiting friends and also enjoying the spirit of Christmas.
Many people have time off work then, the children are home from school and are excited about Agios Vasilis arriving. The centre of Athens, around Syntagma Square is a wonderful place to visit at this time of year. You can really feel the excitement in the air.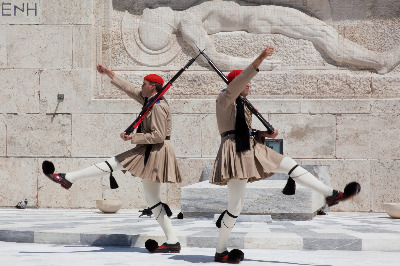 The streets leading off the square towards Monastiraki are full of street entertainers and holiday shoppers, everyone is in a really happy mood, and the streets are decorated with lights and decorations.
Chestnuts roasting on a ... at Christmas in Greece there are street vendors selling all types of yummy delicious snacks, but of course the most tempting are the chestnuts cooking on a portable bbq, the aroma is mouth wateringly divine, a bag of these really are a must have.
In Syntagma Square itself, there is a huge pine tree decorated with lights and colour.
There are lots of little Hansel and Gretle gingerbread cottages set up, for people to wander in and choose from a wild assortment of sweets and candy. The wonder and amazement on the childrens faces at this spectacle is absolutely enchanting.
Also near the centre was a frozen lake set up for people of all ages to go and ice skate. A true winter wonderland experience.
On New Years Eve, people will gather together in peoples homes for parties to celebrate the new year.
Although not traditional, many Greeks now enjoy playing card games on this evening.
One of the new year traditions is at midnight, a child will go out of the house and throw a pomegranate down hard onto the doorstep - hard enough for it to break apart, and then enter the house with the right foot. This is meant to bring luck to that household.
There will be a table prepared with delicious Greek christmas food for the evening, and then just after midnight the woman of the house will bring out a Vasilopita - New Years Day Cake that she has baked that day. The cake will then be sliced up.
The first slice is set aside for Jesus, the second for the home and then subsequent slices are given out to the head of the house, then family members and then guests. If some members of the family are absent, a slice of cake will be cut for them as well.
In the vasilopita is a coin (it used to be a gold coin, but now it is just an ordinary coin), and whoever has the coin in their slice will receive good luck for the new year.
Another belief at christmas in Greece is the Kalikantzari, the mischievous goblins that traditionally appear from the earth during the 12 days of Christmas. They are usually kept away with holy water, thats sprinkled around the house daily by means of a cross and basil, tied together, then dipped into a jar of holy water.

Some more pages with Interesting Facts on Greece





Return from Christmas In Greece to Interesting Facts About Greek Food