Vasilopita
Greek New Year Cake
Vasilopita is a Greek New Year Cake. Served just after midnight, a coin inside brings year round luck to the recipient.
As always with Greece, every celebration involves food and New Year is no exception.
The Greeks celebrate New Year with many traditions, and this is the time they also exchange presents.
One of the traditional celebrations, is to serve a Vasilopita - New Year's Cake. Of course, they will have been drinking and eating all night, but this cake is reserved until after midnight to be served.
They will cut a slice for all the family and friends they are celebrating the New Year with. They will also cut a slice for any family members who are absent. Two other slices are cut and left - one for Christ and one for the house.
When they are baking the cake, they will put a coin in the cake and it is said to bring good luck to the receiver for the whole year.
The cake is named after St Basil - Aghios Vasilis, (the Greek Santa), the bearer of presents and the Saint of blessings and wishes, whose feast day is celebrated on 1st January.


Ingredients
250g butter
2 teaspoons grated lemon rind
530g castor sugar
6 eggs
150g self raising flour
300g plain flour
1/2 teaspoon bicarbonate of soda
250ml milk
2 tablespoons lemon juice
40g walnuts, chopped
35g pistachios, chopped
40g blanched almonds, chopped
Topping
40g walnuts, chopped
40g slivered almonds
40g pistachios
55g sugar
coin - cleaned - to be put into cake if desired


Preparation
Combine all the topping ingredients in a bowl and mix well.
Leave to one side.
Preheat oven to 180C,350F, gas 4
You will need a deep 28cm round cake pan. Grease or line with baking paper.
In a large bowl, cream butter, lemon rind and castor sugar with an electric mixer until light and fluffy.
Add eggs, one at a time, beating well in between each one.
Sift flours and baking soda and add to butter mixture.
Stir in slowly with a metal spoon.
Add milk, a little at a time, stirring in slowly.
Stir in lemon juice and nuts and mix until just combined.
If you want to put a coin in the cake for good luck, add it with the lemon juice and make sure it is not near the top one you've poured the mixture into the cake pan.
Pour the cake mixture into the prepared pan and bake in a preheated oven for 30 minutes.
Remove the cake from the oven.
Sprinkle the topping mixture over the top of the cake and press in to the top of the cake slightly.
Bake for another 40 minutes or until the top is golden and the cake is cooked through.
Stand cake in pan for 5 minutes, then turn out onto a cooling rack, make sure the top is upright, to not lose the topping.
Cool completely before serving.
Kali Orexi - Bon Appetit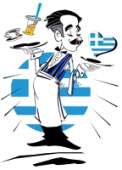 Have a look at these gorgeous Serving Dishes and Platters to serve your Greek desserts!



Return from Vasilopita for more Greek Desserts