Easy Vegetable Recipes

If you're looking for a meal thats healthy and filling, check out our easy vegetable recipes.
Vegetables are included in every Greek meal, whether cooked in a complete meal, or raw in a salad as an accompaniment. Because of the history of Greece, having lived through many poor times, vegetables were always available and so they became very creative with ways to cook and serve them.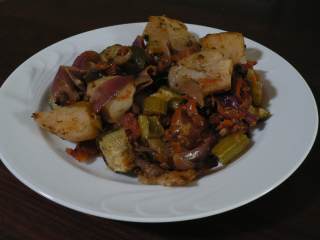 Some of the many ways which they use their vegetables are baked and used in dips - like eggplant dip, roasted - like Briami, stuffed - like eggplant or peppers, cut up and fried - like zucchini fritters. . You will never become bored with vegetables whilst eating Greek style.
There are many recipes that you can use to encourage children to eat more vegetables.
Children are notorious for not liking their vegies, so try some of these easy vegetable recipes for a change, such as Zucchini fritters, they may not even realise they are eating them.
Another trick with children, is to serve them vegetables with a dressing. Salad and vegetable dressings will bring out the good flavours and they also go down better too!
Greeks will always use fresh seasonal vegetables in their dishes. Buying what is in season ensures you get the freshest, tastiest vegetables and are often much cheaper than those out of season that have been brought on in greenhouses or imported.
It also adds variety to meals, as you will cook certain dishes for only a few months of the year, whilst they are available, which helps to avoid boredom with the same old vegies all the time. By using the best quality vegetables, simply add a sprinkling of herbs and a good extra virgin olive oil and you can create a fresh well flavoured dish.
Most of these healthy vegetable recipes are easy to prepare. Although a little time may be needed for peeling, cutting, etc, after that they are simple instructions.
If you're looking for salads, check out our Greek Salad Recipe page for many easy salad recipes. The dishes in this section can be served as an accompaniment to main meals, although many of them are satisfying enough to be used for a light lunch along with a serve of fresh crusty bread.
Kali Orexi - Bon Appetit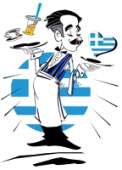 Spinach Rice - Spanakorizo Roasted Vegetables - Briami Stuffed Eggplant and Zucchini - Papoutsakia Zucchini Fritters - Kolokythokeftedes Cheese and Leek Pie Greek Potatoes and Beans - Yachni Potato and Feta Salad Cauliflower Salad Stuffed Tomatoes and Peppers - Yemista


Click here to go from Easy Vegetable Recipes to more Greek Food pages.