GREEK PAPOUTSAKIA
STUFFED EGGPLANT AND STUFFED ZUCCHINI RECIPE
This stuffed eggplant and stuffed zucchini recipe is an ideal finger food to serve for buffets or parties.
Stuffing vegetables is a popular method Greeks use for serving seasonal vegetables creating colourful, appetizing meals with variety.
The name of this dish - Papoutsakia, literally means little shoes which this dish resembles.
Zucchini and baby eggplant (aubergine) are sliced in half, scooped out, filled with mince and topped with bechamel sauce and cheese.
This stuffed zucchini recipe is delicious as part of a mezedes, or a summer picnic or as a spread of meals for all to tuck into.
This is another example of the imaginative ways Greeks have of serving vegetables. You can serve this as a main meal for kids, they are fun to eat and so delicious they won't even realise they are eating vegetables.


Ingredients
8 medium zucchini (courgettes)
6 medium lady finger eggplants (aubergines)
4 tablespoons olive oil
1 medium onion, finely chopped
2 cloves garlic, crushed
400g minced beef
400g can tomatoes or fresh tomatoes, grated
60ml tomato puree
70g rice, short grain
2 tablespoons parsley, finely chopped
250ml beef stock
freshly ground salt, pepper
75g parmesan cheese, grated
Bechamel Sauce
30g butter
1 1/2 tablespoons plain flour
250ml milk
1 egg, lightly beaten
ground nutmeg


Preparation
Cut the zucchini and eggplant in half lengthwise.
Scoop out the flesh inside leaving thin shells.
Chop pulp finely and keep to one side.
Grease a baking tray and place the zucchini and eggplant shells on the tray.
Preheat oven to 180C, 350F, gas 4
To make the filling, heat oil in a frying pan and cook garlic and onion until soft and golden.
Add mince and cook until meat has browned.
Add the chopped pulp from the vegetables.
Add the tomatoes, tomato puree and stock.
Bring to the boil, stir in the rice and simmer, uncovered for 15 minutes or until the rice is cooked and the mixture is thick.
Stir in parsley and season with freshly ground salt and black pepper.
Leave to one side whilst making Bechamel Sauce.
To make the bechamel sauce, melt butter in a heavy based pan.
Add the flour, on low heat, stirring until the mixture looks like a dough.
Remove from the heat and gradually stir in the milk.
If you get any lumps beat with a whisk to create a smooth sauce.
Stir over low to medium heat whilst sauce slowly boils and thickens.
Remove from the heat, cool slightly and then stir in the egg and a pinch of ground nutmeg.
Spoon the meat filling evenly into the zucchini and eggplant shells.
Drizzle the bechamel sauce all over the meat mixture and then sprinkle the grated cheese over the sauce.
Bake in a preheated oven for about 35 minutes or until the vegetables are lightly browned and tender.
Tip
If the bechamel sauce gets very lumpy, take off the heat and use an electric mixer to beat the sauce for a minute or so until all the lumps have gone.
Kali Orexi - Bon Appetit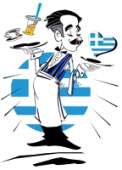 Return from Stuffed Zucchini Recipe to Salads and Vegetables

Return from Stuffed Zucchini Recipe to more Easy Vegetable Recipes