GREEK DRINKS - POTA
"Everyone who's been to Greece has memories of their favourite Greek Drinks!"
As Greek food is integral to the lifestyle and culture of Greece, Greek drinks have also played a large role in Greek life since the times of Ancient Greece.
Greeks are very social people. They love to socialise, to get together with friends, family, or neighbours even, any excuse will do to meet up with and to catch up on news and gossip. Of course, when they do, often food and naturally drink will be involved.
Greeks drink alcoholic drinks, it is just as normal to see a Greek sitting at a cafe at midday having a beer, as it would be having a coffee. However, they are not obsessed with alcohol and just as often they will choose non-alcoholic drinks, day or night.
Greek Coffee - Elliniko Cafe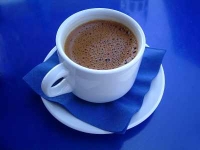 The most popular Greek drink is the Greek Coffee - Elliniko Cafe. They will drink this for breakfast, during the day whenever they have a break, or catching up with friends, mid afternoon, or any occasion that calls for a break and a coffee.
It is a thick beverage, the coffee is a coarsely ground powder, brewed with the water, creating a small froth on top. It is not served with milk.
It is loved by all Greeks. Originally Turkish, it has long been adopted by Greeks and is now the national drink. Of course, being Greeks, there are always many discussions over the coffee itself, how to make it and how to drink it! Find out more and learn how to make Greek Coffee.


Iced Coffee - Frappe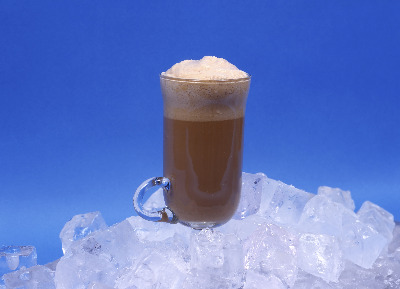 Frappe - Iced Coffee is one of the popular Greek drinks, especially in the warmer months. In the last 10 years as coffee shops around the world have become big business and are now doing iced coffee drinks, Greece was making Iced Coffees for years before.
Frappe is a very popular drink among young Greeks, probably because of the price, who would all meet up at a local cafeneion for a couple of hours, slowly sipping their Frappes.
To learn how to make a Frappe read here.


Tea - Tsai
Black tea is drunk in Greece although not so popular as it is in countries like England and elsewhere. It would be more usual for Greeks to drink black tea with lemon, rather than with milk.
Herbal teas are quite popular. Mountain tea Greek drinks are herbal teas you may hear of in Greece, that is made up of several herbs. Camomile is very popular.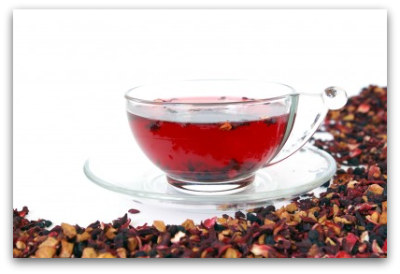 Greeks have always believed in a holistic approach to health and prefer natural methods of curing ills rather than relying on pills. Herbal remedies have been understood and followed since Ancient times and most Greek women will have a good understanding of which herbs will aid you. Most of these herbal remedies are taken in a tea form. In fact, herbs are grown and used in Greece as much for their medicinal value as for their culinary uses.
If you are feeling unwell, often a herbal tea will be made up by a Greek woman, made of either 1 or a combination of herbs. I can tell you from experience, they are the best, and always work miracles!


Soft Drinks - Anapsihtika
You can find all sorts of soft drinks in Greece these days, Coke and Lemonade, Lemon drink - Lemonada, Orange Fanta - Portokalada - which are made in Greece. Not only popular with the young, when Greeks don't wish to drink alcohol they may have a soft drink, perhaps with a meal.
Other Greek drinks are Orange Juice made from freshly squeezed oranges. A home made Lemonade, again from fresh lemons is sometimes made for children.


Water - Nero
The last and most important non-alcoholic drink is water.
When a Greek is thirsty, they drink water. They have always known and understood the importance of this most basic drink. When you are served a Greek Coffee, you will also be given a glass of chilled water. When you have a Greek Dessert, you will also be given a glass of water. You are considered inhospitable if you do not offer water to guests.
Many other nations get addicted to alcoholic drinks, flavoured milk drinks or sodas such as cokes, and only drink these beverages, even when they are thirsty and should be drinking water. The Greek drinks these as well, but never at the expense of drinking water. They know they live in a hot climate and have to drink more water to compensate.
To them it is a natural thing, like needing air to breathe. It is a custom that is in their very core, through thousands of years of knowledge that it is water that keeps the body alive and healthy.
Perhaps this habit, along with the healthy Mediterranean Diet is why the Greeks live long and healthy lives!
The Greek word for water is nero. The Greek language will also have diminutive term, an affectionate word which shows how much they adore something, and no surprise there is one for water, which is neraki, literally meaning sweet little water. You will hear this expression often in Greece, which shows their love of water.


Alcoholic Drinks - Inopnevmatothi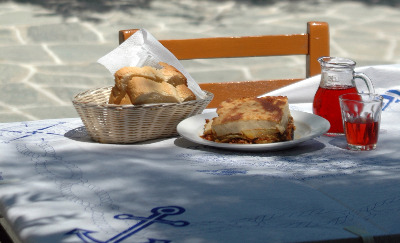 Greeks will drink alcohol, in fact they can drink lots of it. Alcohol plays a daily role in Greek life. At meal times, any Taverna or home dinner table is likely to have an alcoholic drink on it, and yet you never associate Greeks with drunken behaviour as we see in other countries!
Greece does not have a pub culture.
A Greek drinks, but does not like to be greedy or needy for a drink, nor do they like to appear drunk, or to be thought of as drunk. They care about their appearance and reputation at all times. However, they do love to let their hair down, leave the stress of everyday life behind and drink, sing and dance the night away without any cares in the world, and that is as far as they take it, most of the time!
In mind of this, you will rarely find Greeks drinking alcohol without eating. Mezedes little bite sized snacks are served with drinks to slow the absorption of the alcohol and lessen the affects of the alcohol.


Ouzo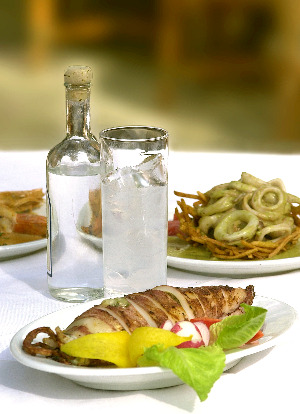 Perhaps the best known of Greek drinks and almost the national drink of Greece must be Ouzo. An aniseed flavoured aperitif.
It is unique and so memorable to anyone who has visited Greece. A clear liquid that turns opaque once mixed with a little water, even the aroma is distinct and very recognizable. An Ouzeri is a special place to go to drink Ouzo, a mix between a bar and a taverna, selling Ouzo and a large variety of Mezedes.
Read more about Ouzo.


Metaxa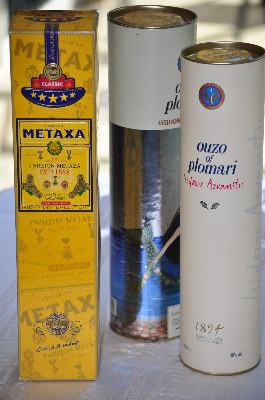 Another very popular drink in Greece. A Greek brandy, with a very distinct taste, slightly different to French brandy, but still a very well made drink.
You can find it in 3, 5, 7, 12 stars and Grand Reserve. Obviously 7 and 12 stars is the best and if you wish to drink a good brandy, neat, then this is the one to have.
Greek youths often drink Metaxa brandy and coke, if you're having this then you would only need 5 stars. 3 stars is of course, inferior, ideal to use in cooking, as quite a few Greek recipes will use brandy. Metaxa is a rather sweet brandy.
Find out more about Metaxa.


Retsina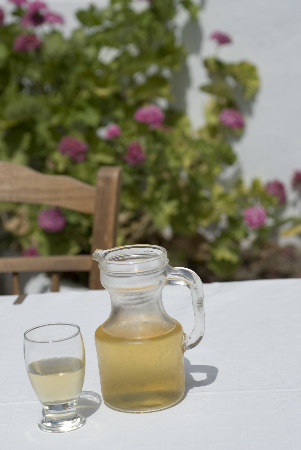 Definitely a unique taste to Retsina. A wine with a taste that has to be acquired. Most young foreigners to Greece will probably have tried it because it used to be the cheapest drink you could find.
Retsina means resin and it is a resin from pine trees that is used to flavour this wine.
Tsipouro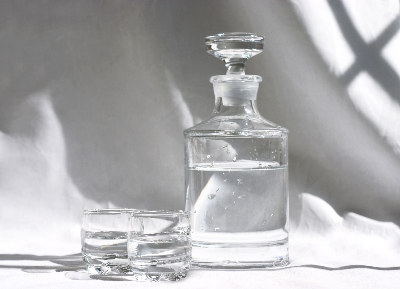 A clear liquid drink, a Greek drinks this using a tiny shot glass and that is all you will need. It will leave a trail of fire down your throat as you consume it! Also known as Raki or in Crete - Tsikouthia.
Read about Tsipouro.


Greek Wine - Krasi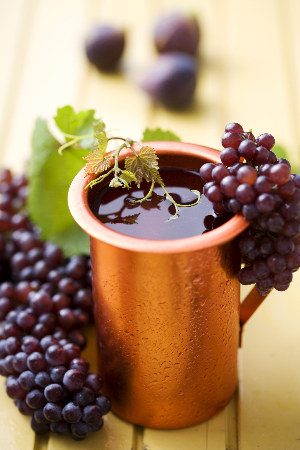 Greek wines have not really made it in the international wine market as wines of note, yet there are some good quality wines in Greece, indeed they have been making wine since Ancient Greek times. Certainly good grapes are grown in abundance all over Greece and the soil is ideal for growing them.
In the last 20 years or so, they have started producing some excellent wines. In the past wine was made on a smaller scale and kept local. Locals would take their small kegs or bottles to the local shop or Taverna and buy their weekly supply. Farmers produced decent wines, just enough for their family and the local area trade. Wine is served at most main meals, in Tavernas and in homes and most often it is a rustic country wine. Red was and still is the more popular of Greek drinks, although there are many good white wines as well. Rose is also more popular in Greece.
Read about the history of Greek Wine.


Greek Beers - Biera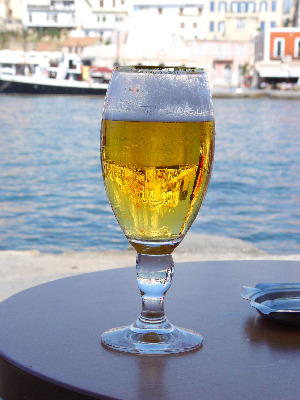 Greeks love to have a beer, either with their meal or instead of a coffee when socialising with friends. There is only one beer made in Greece - Mythos, a pilsner type beer. It is quite good, although not well known internationally, also not the most popular in Greece either.
Most Greeks drink either Amstel or Heineken, in fact most places will serve only these two beers as they have been the most popular in Greece for years and it is hard for old habits to die. There are now several other select beers available. Amstel and Heineken are brewed under licence in Greece.
Stin Iyassus - Cheers!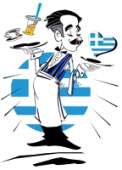 Do You Have a Tale about Greek Drinks?
What's your favourite Greek drink?

Have you been bitten by the Ouzo bug, seduced by smooth Metaxa, converted to the raw Retsina or survived Tsipouro?

Do you have an amusing story, some wonderful anecdotes or a memorable night involving Greek drinks?
Have you had Shirley Valentine moment, drinking Greek Wine at a waterside taverna watching a beautiful sunset?
Or a Zorba the Greek night, kicking your heels back and Greek Dancing all night long!
Share your stories about the first, last, best or worst time you had some Greek drinks.
Your Tales of Greek Drinks
Click on the links below to read Tales of Greek Drinks submitted by other Greek Food lovers to this page...

Le Frappe Not rated yet
Yelo! Everybuddy!
Le Frappe
It is a coffee that is COLD
A Coffee for WARMER months
Its weird right!
But, what ever happens
its freakin' …
Return from Greek Drinks to Greek Food