RETSINA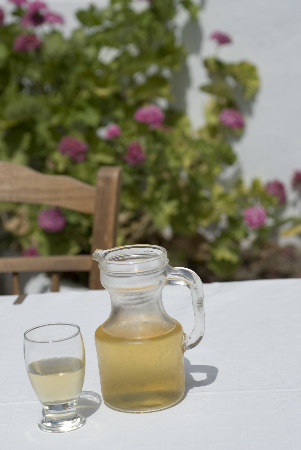 Retsina is the name of the wine that has been flavoured with the resin from pine trees.
Retsina has been made in Greece for at least 2000 years.
Although there are many stories of how this drink was created, the most popular theory is that in ancient Greece they would store their wine in vessels. These vessels were not sealed, the air would get to the wine, and spoil it, making it no longer drinkable.
They found that by sealing these vessels with a resin from the pine trees, the air didn't spoil the wine and it lasted longer. However, with this process, the resin seeped into the wine whilst it was fermenting and flavoured the wine.
The Greeks became accustomed to this flavour and gradually expected it.
Once the wine vessels improved and they no longer needed to seal them with the resin, to keep the Greeks happy, they started to flavour the wine intentionally by adding chunks of the amber coloured resin during the wine making stage.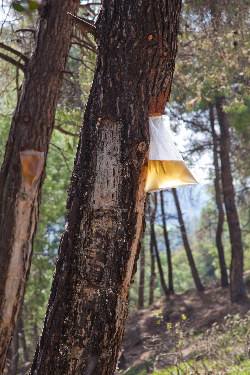 If you visit any of the many pine forests in Greece, you will see trees that have had a small chunk of the bark cut out. They then hang a container under this cut to collect the resin as it oozes out of the trees.
Until recently most retsina was very strong, in fact stronger with the resin added, than in the days when it accidentally seeped into the wine.
These days though, eager to improve the name of Retsina, and to compete with the improving Greek wine industry, many of the Greek companies are toning down the intensity of the resin added and creating mild flavoured wines.
Retsina is most popular as a white or rose wine, the most popular grape used for this is the Savatiano grape.
If its had resin added to it, it will always be labelled Retsina.
It is an extremely strong wine. You will find it in bottles, or the local Taverna may serve it in carafes from a barrel.
Many tourists have said it resembles chemical cleaners more than a beverage! It is cheap and has always attracted drinkers.
It is an acquired taste, it just depends how long you want to spend acquiring the taste!
Try it once, you may enjoy it, at least for the experience of drinking a very old Greek drink recipe!
Stin Iyassus - Cheers!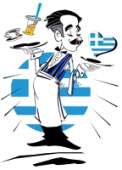 Return from Retsina to Greek Drinks