Greek Yogurt - Yiaourti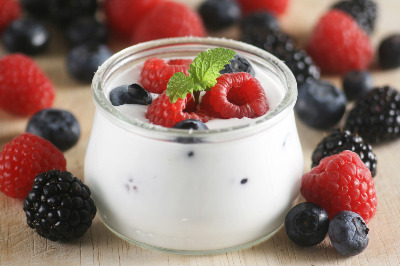 Greek Yogurt is the thickest, creamiest yogurt you will ever taste! It is tasty, healthy, a great source of protein and extremely versatile to use in so many recipes. It is the perfect breakfast food, and a must have for those on a diet.
It is suitable for vegetarians, pregnant women, diabetics and brands like Fage are good for gluten free diets (check each brand's labels).
Yogurt has been eaten in Greece since Ancient times. What makes their yogurt taste so good is their process of straining it, to remove more of the watery whey – which leaves a thicker yogurt.
Originally made with goat's milk, as there were more goats than cows in Greece, this is now changing and most yoghurt in Greece is now made with cow's milk.
It's one of the few foods that make you feel indulgent and luxurious, yet is still so good for you. Yogurt has live active cultures that help boost your immune system, and keeps your digestive system healthy.
Read more about the health benefits of yogurt.
You can choose from no fat, low fat or rich and decadent full cream. The full cream does have a high fat content, so is best and ideal to use as a cream substitute, (less fat and healthier than cream).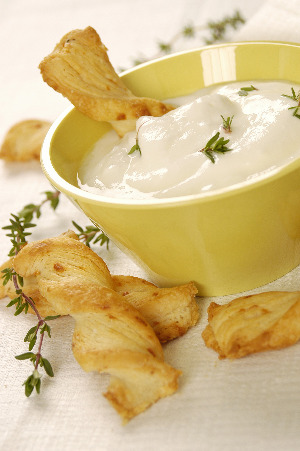 It is so versatile – use it to
replace sour cream
, cream, mayonnaise or cream cheese. Use it on desserts, in dips, soups, to make sauces creamy, salads and ice-creams. The list is as long as your imagination!
---
This is
the best book
you will ever find on yogurt. It cover the history and how to make it - it's been made and eaten for thousands of years.
There are 300 recipes from all over the world, appetizers, dips, breakfasts, snacks, lunch and dinner meals, everyday and dinner party fare, and so many delicious desserts!
There is no better book than this, and with a budget pricetag, you can buy for yourself, or as a great gift for someone who loves food.
---
Greek Yogurt is generally eaten plain. When they add flavours in Greece, it will often be drizzled over the top so you can taste the 2 different flavors distinctly. Yiaourti with Honey is the most popular, or with a fruit sauce, such as strawberry or apricot.
Many people love making yogurt at home. You can have it any time you want, it's cheap, fresh and healthy. You can learn how to make yogurt from scratch.
This is another way of yoghurt making using just a couple of items. It is cheap, so easy – even children can make it, doesn't need electricity and produces a wonderful thick, creamy yogurt, with many fruit flavours or a great Greek style yogurt.
The most famous brand is Fage Greek Yogurt. Read more about how they make their yiaourti so creamy!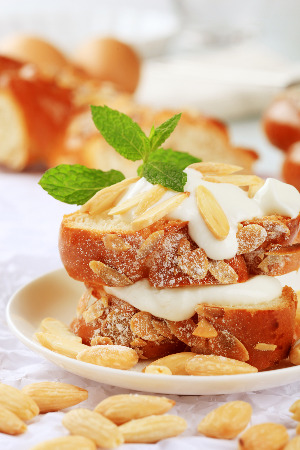 If you have some plain yogurt that is very runny, here's how you can strain it yourself to produce a thicker texture like Greek Yoghurt.
Line a sieve with cheesecloth, muslin or even a coffee filter.
Place the sieve over a bowl.
Pour the yogurt into the sieve, place them in the fridge and leave for a few hours to drain.
Discard the liquid in the bowl and enjoy the thicker, creamier Greek yogourt.
---
An
alternative, easier method
to strain a runny yogurt and make it into Greek yogurt, is to use the Cuisipro Donvier Yogurt Cheese maker.
Just pour the yogurt into the strainer which sits in the other container and put it in the fridge. You don't need to leave it long until it gets the consistency of Greek Yogurt.
Leave it longer and you will get a lovely thick creamy cheese you can spread or use for many other uses.
---
If you'd like to make yogurt at home, this is probably the
best electronic yogurt maker
on the market, getting the best rave reviews.
You get 8 individual cups, so you can make up to 8 different flavors at one time!
Put it on in the morning and by the evening you have fresh, homemade yogurt, brimming with healthy yogurt cultures.
---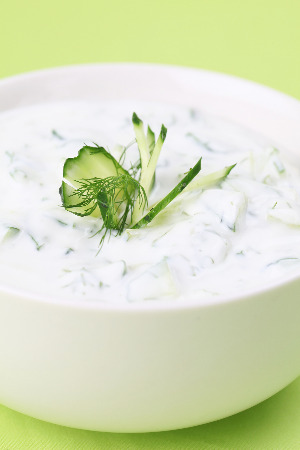 Try these recipes using Greek Yogurt!


You can return to the home page for more pages about Greek Food and Recipes