SOUVLAKI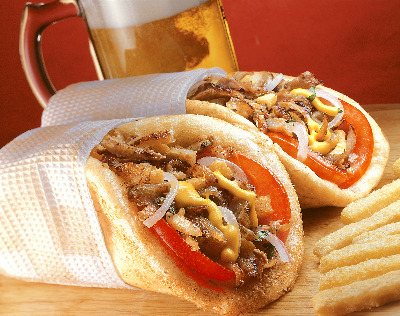 Souvlaki is the Greek fast food. All over Greece, you can find Souvlaki shops, some to eat in, taverna style, others are just for take-away. It can be a casual and cheap alternative way to eat out or you can get one to eat as you are out and about to satisfy your hunger.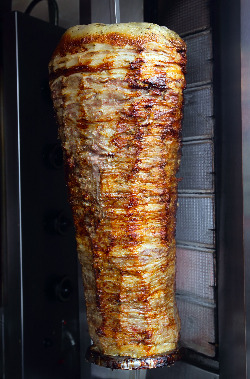 Traditionally, this meal is made with meat that is called gyro (yee-ro). This is layers of meat, usually pork, threaded onto a vertical rotisserie, which slowly turns round, cooking as it goes. They will then cut very thin slices of meat off the gyro as and when needed.
Other meat that can be used in Souvlaki are kebabs. These are cubes of seasoned meat cooked on a skewer, the stick removed and the meat inserted. This is a much easier method to duplicate at home.
This meal is one of my family's favourite. It is quick and easy (very handy for a mid-week meal), its cheap to make and also very nutritious. It is a healthy meal and includes most food groups - bread, meat, vegetables and dairy.
In our family it is also something that the children can help with, from preparing the tzatziki to cutting up the vegetables. I like to lay all the fillings out on the table in different bowls and then everyone can make up their own Souvlaki themselves.
Ingredients
round pitta bread (also called Lebanese bread)
tomatoes, thinly sliced
1 onion, thinly sliced
lettuce, roughly shredded
tzatziki or plain greek yogurt
kebabs
Preparation
This is a rather vague list of ingredients, I know, but it is each according to their own tastes and preferences and also how much people like to eat.
Allow 3-6 slices of tomatoes, about 5-6 onion rings and a handful of lettuce per person per pitta. Allow about 1 or 2 tablespoons of tzatziki per person. If you don't like tzatziki you can use just plain Greek yogurt instead.
For the kebabs, you can use whichever meat you prefer, although pork is the traditional meat of Souvlaki , in Greece you now find Souvlaki being sold with lamb or chicken kebabs.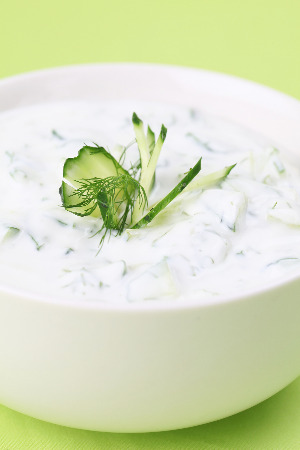 Thinly slice tomatoes and onion, shred lettuce and put in separate serving bowls.
Prepare the tzatziki and put out in a serving bowl.
Prepare kebabs, season to taste (salt, pepper, paprika), and grill meat.
In the meantime, take each pitta, and spray each side with oil.
(I find the oil spray you find at the supermarket great as they produce a very fine amount of oil to cover the pitta.) If you havent got that just wipe oil over each side of the pitta with a brush - just make sure its not too thick.)
You will need a hot plate to cook the pitta on (use either a cast iron plate, or the bbq hot plate or a large heavy frying pan - thinly sprayed with oil so as to not stick - not to fry.)
Cook the pitta until they start to take a bit of a colour, on each side. This will not take long at all - a couple of minutes.
Serve pitta, spread with tzatziki, then layer with lettuce, tomato, onion and meat.
Wrap the pitta up like a cone shape, using a paper napkin or greased paper to hold in place in necessary.
An alternative to kebabs is to thinly slice your meat and fry with salt, pepper and paprika until cooked and slightly crispy.
Another alternative is to use any leftovers from a roast lamb, cutting up the pieces, they can be as small as you like, then lightly frying it (very little oil - just a spray of oil on the bottom of the pan), until it crisps up slightly.
The lamb is very tasty this way, especially if you flavoured the roast well.
After our traditional lamb at Easter (which is well flavoured and seasoned), I will cut up all the leftover lamb into small bite size pieces and put in bags in the freezer to bring out for a quick Souvlaki meal.
Kali Orexi - Bon Appetit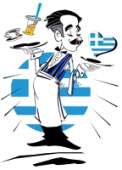 Return from Souvlaki to Meat Recipes