Tzatziki
Yogurt And Cucumber Dip
"Tzatziki is the all time favourite Greek appetizer."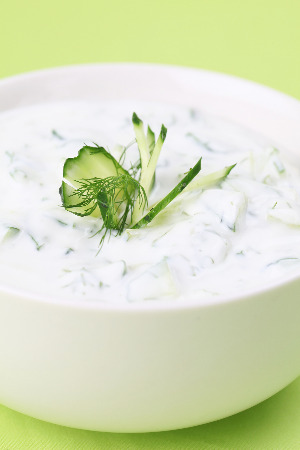 In a taverna, it will always be ordered along with other appetizers as part of a large spread.
It can be used as a dip, an accompaniment to most meats or as a sauce to be used when making souvlaki. There is something very enticing about tzatziki. The thick creamy glistening white yogurt, broken up by tiny specks of green cucumber showing through the white yogurt.
And then the taste - its just so delicious! It doesn't matter how much I make - it always goes quickly.
My children adore tzatziki!
It is important to use a good quality thick Greek yogurt with the 4 - 10 % fat content (the 10% is best - a low-fat yogurt just does not taste good in this recipe!)
If the yogurt is rather runny you may want to strain it. Line a sieve with muslin, place over a bowl and pour the yogurt into the sieve. Leave in the fridge for a few hours to drain some of the extra liquid.
A simpler method is to use a Yogurt Cheese Maker
!
It is best to make it at least 1 hour before serving to let the flavours infuse.
There are many variations to this recipe, many of which include herbs - mostly mint, sometimes dill, also olive oil. Feel free to experiment. I have not included them as I enjoy the pure creamy taste and the contrasting bite of garlic, without the herbs. Its a personal choice.
Ingredients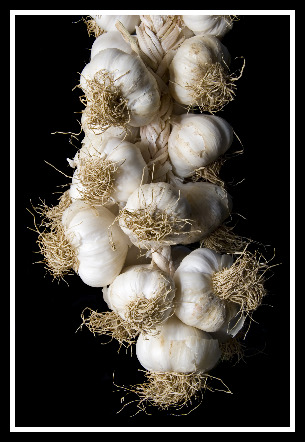 3 cloves garlic (more if you like)
500 grams plain thick Greek yogurt
3/4 cucumber
salt
Preparation
Using a Cutting Board
dice the cucumber into small pieces. It is optional whether to leave the cucumber peel on to give it more colour or if you like you can Peel
this before chopping the cucumber.
Take a handful of chopped cucumber at a time and squeeze to get any excess juice out. Place in a Mixing Bowl.
Mince the garlic either in a mortar and pestle, Garlic Press
or by chopping it up very finely. Use as much as you like, but remember that if you are making it for the next day it will become stronger as the flavour infuses.
Add the garlic and yogurt to the bowl with the cucumber and mix all together. Season with salt.
Store in the fridge until ready to serve. It is best to leave it at least 1 hour before serving to let the flavours mix in together.
Serve as part of a meze or as an accompaniment to most foods, along with Greek salad and plenty of fresh crusty bread to dip into the tzatziki.
Read more about Greek Yogurt
Kali Orexi - Bon Appetit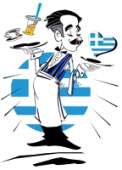 Spanakopita - Spinach and Feta Cheese Pie
Kolokithopita - Pumpkin Pie
Tiropita - Cheese Pie
Dolmades
Hummus
Taramosalata
Eggplant Salad - Melitzanosalata
Grilled Bread
Fried Zucchini, Eggplant, Mushrooms
Skorthalia - Garlic Sauce Dip
Piroski
Cheese and Ham Cake
Cheese Pies Without Pastry
Quick Cheese Pies
Check out the great ideas on these pages...
Cooking utensils and appliances
will help make preparing and cooking this recipe much quicker and easier.
Read our reviews of the best Greek Recipe Books.
Great selection of Greek Movies, from Zorba or Rembetika to Big Fat Greek Wedding and Mamma Mia.
We've found Amazon.com to have the largest selection (and cheapest prices!) of kitchen and cooking items on the net. Just type any keyword such as Cooking gadgets in the search box.




Return from Tzatziki for more Greek Appetizers