Dolmades
Stuffed Vine Leaves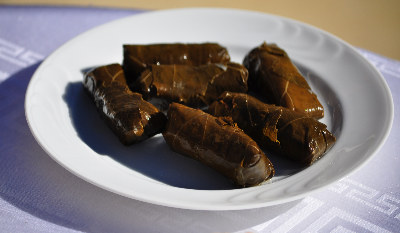 Dolmades are a wonderful delicacy, popular in Greece as well as other mediterranean countries. The Greeks love to use stuffing, and have created many wonderful meals this way. Dolmades are little morsels of stuffing, rolled up in a vine leaf.
They are great as an appetizer to start a meal or serve them with an avgolemono sauce, rice and salad and you have a delicious main meal. They are wonderful served either warm or cold.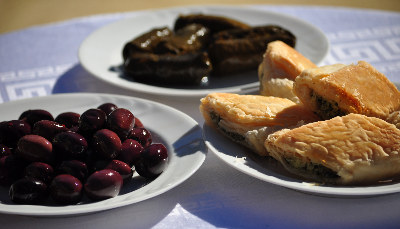 There are many variations to the recipe for the filling. I have used the basic version, which you can use as a base and add other ingredients as you wish. The most popular additions are sultanas and pine nuts - about 2 tablespoons each, (which you would add at the same time as the rice), and also mince meat - lamb or beef - you won't need a lot, about 300gms but do adjust if you prefer more or less. If you use meat, fry it along with the onions and then proceed as per the recipe.
You can find vine leaves in supermarkets (bottled) or in delicatessens or health food shops.
Ingredients
2 large onions, finely chopped
240 gms long grain rice, washed
320 gms olive oil
1/2 teacup parsley, finely chopped
2 tablespoons dill, finely chopped
1 lemon
salt, pepper
vine leaves

Optional
Little amount of finely chopped mint
Preparation
If you are using vine leaves freshly picked off the vines, wash well, remove the stalks, and dip in boiling water for barely 1 minute, to soften.
Drain in a Colander
.
If you are using vine leaves that have been bottled in brine, you will find these are already soft and so you do not need to follow the above instruction. Just rinse under cold water and drain.
For the filling:
Fry the onion in a pan with about 240 grms of the olive oil. Saute until they turn blonde. (This is when you would add the meat, if using).
Add the rice (and any other extra ingredients you wish). Saute the rice for about 1 minute, making sure the rice is well coated in the oil. Add about 1 1/2 cups water, the parsley, dill, mint, salt and pepper. Let it simmer, covered, until all the liquid has been absorbed and the rice is about half cooked. Allow to cool slightly.
Using one at a time, place the vine leaf vein side up (glossy side down) on a bench. Place a good teaspoon or so of stuffing along the wide end of the leaf, in a sausage shape, leaving some leaf free at each end. Fold one side of the leaf over on top to enclose the stuffing, then do the same with the other end. Now roll it all up firmly in a sausage shape, until it looks a little like a cigar.
Place these rolls in the bottom of a large heavy based saucepan, in a single layer, with the folded section underneath.
Repeat until all rolls are done.
To the pan we now add the rest of the olive oil - about 80 gms, and salt and pepper. Cover them with a plate to keep them in place when cooking. Add hot water, just enough to cover half way up the dolmades.
Use a Citrus Juicer
to get freshly squeezed juice of 1 lemon.
Add to the pan.
Shake the pan carefully to ensure all the liquid has got in and around the dolmades.
Cover with a lid and simmer on low until all the juices are gone and only the oil is left and the rice is cooked through. If you test one and the rice is still not cooked, add a little more water.
This dolmades dish teams up wonderfully with avgolemono sauce, rice and a Greek salad or lettuce salad.
Kali Orexi - Bon Appetit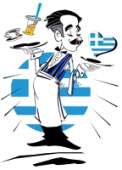 Spanakopita - Spinach and Feta Cheese Pie
Kolokithopita - Pumpkin Pie
Tiropita - Cheese Pie
Tzatziki - Yogurt and Cucumber Dip
Hummus
Taramosalata
Eggplant Salad - Melitzanosalata
Grilled Bread
Fried Zucchini, Eggplant, Mushrooms
Skorthalia - Garlic Sauce Dip
Piroski
Cheese and Ham Cake
Cheese Pies Without Pastry
Quick Cheese Pies
If you like this recipe, perhaps you'd like seeing these pages....
Check out our pages of
cooking utensils and appliances
to help make preparing and cooking this recipe much quicker and easier!
Looking for new ideas and inspiration for meals, check out these deals on Food and Cooking Magazines.
Read our reviews of the best Greek Recipe Books!
We've selected the best Greek Music for you to download and play for any occasion!
Return from Dolmades for more Greek Appetizers