Taramosalata
Taramosalata, made from tarama - which is the roe of large fish, is a light fish tasting creamy dip.
One of the most famous of greek appetizer dips, it can be served with a large range of foods, as an appetizer to a fish meal, or with a rather frugal main meal to liven up a weekday dinner.
Serve taramosalata with lots of crusty fresh bread and watch it go! It is one of those dips that once you have acquired the taste for it, you can't stop eating it - it is so delicious.
My mother had 2 recipes for Taramosalata and they both taste great so I have included both of them.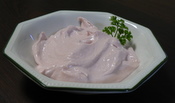 First Method
Ingredients
160 grms tarama (fish eggs)
160 grms stale white bread, crusts removed
1 1/2 teacups extra virgin olive oil
lemon juice from 1 1/2 lemons
chopped parsley
1-2 thin slices onion
Preparation
If the fish roe comes with their skin, place them in warm water for 10 minutes and clean. If not, place them in a food processor/blender.
Soak the bread in water and then wring the excess liquid out of it and place in the processor.
Add the onion.
Turn the blender on and slowly blend in.
Whilst it is still going, pour in, a little at a time, the lemon juice and olive oil.
If the mixture is too thick, you can add a little water to loosen the mixture, or alternatively if it is rather strong in flavour, add more bread.
Keep refrigerated.
Second Method
Ingredients
150 grms tarama (fish eggs)
@ 160 grms boiled potatoes
1 - 1 1/2 teacups extra virgin olive oil
1/2 teacup feta (chopped)
2-3 tablespoons lemon juice
1 tablespoon white vinegar
chopped parsley to garnish
Preparation
Peel the potatoes, boil them and then mash them.
Treat the fish roe as above if they have skin, otherwise place in a food processor.
Add to the processor the potatoes, and feta.
Turn on the blender and whilst running on a low speed, slowly pour in the oil, lemon juice and vinegar.
Adjust to taste.
Keep refrigerated.
Serve garnished with parsley.
Kali Orexi - Bon Appetit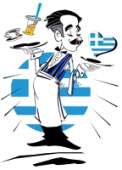 Spanakopita - Spinach and Feta Cheese Pie
Kolokithopita - Pumpkin Pie
Tiropita - Cheese Pie
Dolmades
Tzatziki - Yogurt and Cucumber Dip
Hummus
Eggplant Salad - Melitzanosalata
Grilled Bread
Fried Zucchini, Eggplant, Mushrooms
Skorthalia - Garlic Sauce Dip
Piroski
Cheese and Ham Cake
Cheese Pies Without Pastry
Quick Cheese Pies



Some more great pages you might like!
Have a browse through our Greek Music and Greek Movies for some light entertainment.
Read our reviews of the best Greek Recipe Books.
Check out these pages of cooking gadgets, appliances, knives, pans, serving dishes and much more to help prepare and cook this recipe easier and quicker.
Or search yourself, we've found Amazon.com to have the largest selection (and cheapest prices!) of kitchen and cooking items on the net. Just type any keyword such as Cooking gadgets in the search box.


Return from Taramosalata for more Greek Dips and Appetizers