THE BEST BREAD MACHINE
If you're looking for the best bread machine, check out these ones to make delicious, tasty, home made bread.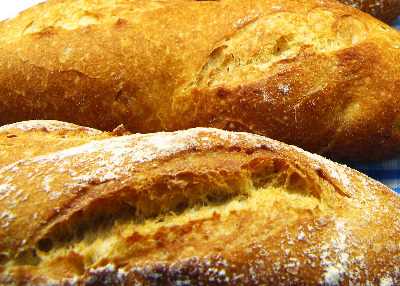 The aroma of a freshly made loaf wafting through the house will have everyone begging for a slice!
It's so easy to use. Place a few ingredients in the tin, press a couple of buttons to set the cooking program, press start and in a few hours, with so little effort, it will be ready!
Put it on a timer and you can have it automatically made and waiting for you in the morning for breakfast.
Or have the machine mix, knead and rise in the dough only mode, which is the fiddly bit anyway, then take it out and form into whatever shape you like - rolls, long french stick, scored for extra crust, stick it in the oven and you have your favorite shaped bread.
I do use this method a lot as we like a lot of crust on our bread, it takes the hard work out of breadmaking and you still get the result you want.
You can make pizza dough for home made pizza. Much tastier and healthier than the take away ones.
Make Foccasia, croisants and pastries using the dough modes.
The bread you make at home will be a lot cheaper, so saving you money, always a good thing.
Click on any image or link on this page for more information!
You can be assured that there are no preservatives or chemicals in your home made bread. This is great if you're on a special diet, such as gluten free, or dairy free, as you control just which ingredients are used.
Panasonic SD YD250 Automatic Bread Maker
This is the state of the art, professional quality best bread machine.
3 sizes - medium, large and ex large - up to 2 1/2 pounds
3 crust colors - light, medium, dark
Basic and rapid bake - 1 hr, 55 min
White, whole wheat and multi grain
Sandwich - soft crust
French, pizza, dough
Raisin bread - audible beep alert to add dried fruit, nuts, etc
Dough - mixes, kneads and rises dough only for pizza, rolls and raisin dough
Bake only
Separate yeast dispenser automatically adds it at the perfect time
13 hour digital timer
Non stick pan
Includes good recipe book with 40+ recipes plus measuring cup and spoon
Bakes yeast and non yeast breads, doughs and cakes
Wholeweat and multi grain breads come out perfect and well risen.
Very quiet
Quality product that stands the test of time and turns out a perfect loaf every time - you do get what you pay for!
---
Breadman TR875 2 Pound Breadmaker, Stainless Steel
I think this is the best bread machine for variety and specialty breads. It makes the
horizontal shaped loaves,
which give more crust and it also has a
gluten free cycle
- which allows the bread to rise only once instead of twice, especially useful for those on a gluten free diet. It's also one of the most stylish looking machines!
Horizontal loaves
3 sizes - 1 - 1 1/2 - 2 pounds
3 crust colors - light, medium, dark
Super rapid bake - 2 pound in just over 1 hour
Gluten free cycle
White and 100% whole wheat, french
Jam setting
Dough only for pizza and pasta, as well as bread dough
Fruit bread - audible beep alert to add fruit and nuts, etc
15 hour digital timer
Recipe book with measuring spoon and cup
Stylish - stainless steel co-ordinates with other kitchen appliances for a modern look
Quiet
---
Sunbeam 5891 2 Pound Programmable Bread Maker
This is a basic breadmaker, doesn't have all the bells and whistles of the other ones, and some things are not automatic, but if you're happy with that, at this price, there will be very little to complain about. When budget dictates which one to buy, this is a good option.
2 sizes - 1 1/2 or 2 pound sizes
3 crust colors - light, medium, dark
Express bake in under 1 hour
Baking modes - basic, white, whole wheat, french, quick, sweet, jam
Bake only
Dough only
Sandwich - soft crust
No dispenser - audible beep to add raisins, nuts etc
13 hour digital timer
Recipe book is not very good and the recipes are not very accurate. I recommend to get a good bread recipe book for a variety of quality recipes from basic to specialty.
This is a basic breadmaker that does all it should do - to make basic and specialty type breads.
---
I highly recommend when baking bread, with all breadmakers, get yourself some good digital scales and weigh and measure your ingredients by the weight not by the volume, it will make all the difference in baking the perfect loaf.
---
Have a look at these best bread machine cookbooks.
---

All of these products are available at Amazon,click on any link or image for more information and reviews.

Return from our Best Bread Machine for more Useful Kitchen Tools