Piroski
Although Piroski is not very well known outside of Greece, in Greece it is a well known and loved greek appetizer. One way of describing it is to say it is similar to Dim Sims. Tasty mince is enclosed in a light dough. It is also known in some places as piroshki.
Piroski is ideal for party food, for picnics, or for childrens lunch boxes.
Ingredients
4 teacups plain flour
4 egg yolks
1 or 2 egg whites
1/3 teacup milk
1/3 teacup margarine
3 level tablespoons yeast
1 level teaspoon salt
480 grams (1.1 lb) minced meat
1 onion
parsley
2 tablespoons tomato puree
4-5 tablespoons grated cheese (cheddar or whichever you prefer)
oil for frying
Preparation
Warm the milk until luke warm then dilute the yeast in the milk. Add 1 teacup flour and stir well. Cover it with a tea towel and place it somewhere warm to allow the yeast to activate.
Place the yeast mixture in a large mixing bowl, then add the egg yolks, margarine, the salt and the rest of the flour. Mix in well. You then knead it to achieve a rather tight dough. (if needed adjust with water or flour.) Cover it again and leave it in a warm place to rise for at least 20 minutes. (I will place it covered with a clean tea towel, on a tray over the sink, filled with hot water.)
Then knead the mixture again and separate it into small pieces.
In the meanwhile, fry the mince meat with 1 finely chopped onion, a little bit of parsley and the tomato puree. At the end, add the cheese and stir through.
Work the dough into small oblong shapes, then pull apart the dough from the top. Place in the centre of the dough 1 tablespoon of the mince mixture and then close the dough around it, wiping the egg whites on the sides of the dough to stick. In this way you have created a half moon shape. Work it in your hands to take the shape on an egg.
Place them on a greased baking tray, cover them and put them over the hot water again to rise a bit.
Before you place them in the oven, spread a bit of egg white over their surface for colour.
Bake in medium over until brown - 170 C., 350F
You can turn piroski into sweet cakes if you add 3 tablespoons of sugar with the dough. For the filling you can use jam and/or glazed fruit, or sweet mince.
Kali Orexi - Bon Appetit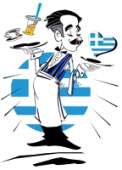 Spanakopita - Spinach and Feta Cheese Pie
Kolokithopita - Pumpkin Pie
Tiropita - Cheese Pie
Dolmades
Tzatziki - Yogurt and Cucumber Dip
Hummus
Taramosalata
Eggplant Salad - Melitzanosalata
Grilled Bread
Fried Zucchini, Eggplant, Mushrooms
Skorthalia - Garlic Sauce Dip
Cheese and Ham Cake
Cheese Pies Without Pastry
Quick Cheese Pies

Some more great pages you might like!
Have a browse through our Greek Music and Greek Movies for some light entertainment.
Read our reviews of the best Greek Recipe Books.
Check out these pages of cooking gadgets, appliances, knives, pans, serving dishes and much more to help prepare and cook this recipe easier and quicker.
Or search yourself, we've found Amazon.com to have the largest selection (and cheapest prices!) of kitchen and cooking items on the net. Just type any keyword such as Cooking gadgets in the search box.


Return from Piroski for more Greek Appetizers