Spanakopita
Spinach and Feta Cheese Pie
"Spanakopita is the most versatile and popular snack in Greece."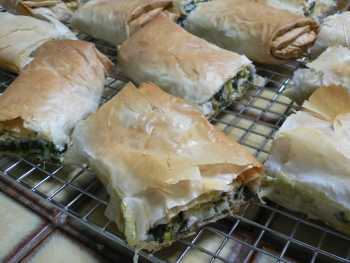 It is ideal to eat when you are busy and need a snack to keep you going. Or have as a light lunch. I love to keep some in the fridge for my children to have when they come home from school, (although they don't normally like spinach, they love the creamy flavour of the spinach and feta cheese mixed together). It is also healthy, packed full of nutrients in the spinach and feta cheese.
In Greece, everywhere you go there are little pie shops selling all types of pies (pitta's), the most popular being the spanakopita and tiropita (cheese pie), as well as many other types, sweet and savoury.
The most convenient way of making spanakopita is to use the commercial, shop bought filo pastry, which is the method I have used here.
Ingredients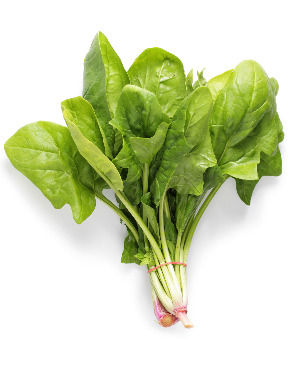 8 sheets of filo pastry
butter, melted (for coating the fillo)
1/2 kilo spinach
2 leeks
2 spring onions
1/4 bunch dill
2 tablespoons chopped parsley
2 eggs
200 - 250 gms feta cheese, crumbled
75 gms parmesan cheese, grated
salt and pepper
1/2 teacup olive oil
Preparation
Wash all the greens well in a Colander
, especially the leeks.
Using a Cutting Board
chop up the vegetables.
Prepare a saucepan of boiling water, add a little salt.
Blanch the greens in the boiling water for about 1 minute - until they soften.
If you have a chip pan or basket of some sort to put the greens in to submerge in the water it would be better as that will make it much easier to remove them from the water, as you may have to do this in two batches, dependant on the size of your saucepan.
Remove from water, drain and leave to cool.
Squeeze all the water from the greens with your hands. Put them in a large Mixing Bowl
and fluff them up with a fork so as to not be all scrunched up and mix them all together.
Beat the eggs together using a Balloon Whisk
.
Add to the greens the herbs, oil, eggs, cheese and a little pepper.
You may not need to add salt, depending on how salty the feta cheese is. If it is mild, add a little salt as well.
Mix all the ingredients together. In the bowl, separate the mixture into four portions.
Prepare and grease a large baking tray (it needs to be as long as the length of filo).
On a bench, lay 1 sheet of filo pastry, then using a Pastry Brush
, now brush a thin layer of the melted butter over the top of the pastry, add another sheet directly on top and repeat with a coating of butter.
Take one portion of the spinach mixture and place it along the length of the pastry.
Don't take the mixture to the very ends, leave a bit of pastry to be tucked in.
Fold the ends over the spinach mixture, like an envelope, then holding it firmly, roll it up.
Place on the baking tray with the loose end underneath. Repeat with the other three portions.
Each length of pie makes four portions. With a sharp knife, carefully cut through the top layer of pastry to mark the portions, (to be able to cut through later without causing the pastry to crack).
Bake at 180C for about 45 - 50 mins or until golden.
After 25 minutes of cooking, take the tray out of the oven and cut portion marks all the way through.
Return to the oven for remainder of cooking.
Spanakopita can be served hot, room temperature or cold. Keep in the fridge.
This spanakopita recipe has been in my family for generations.
The only change I have made to this recipe is to use ready made filo pastry as it becomes rather time consuming when you also need to make the pastry!
It does taste delicious, especially so when made using the home made fillo dough recipe. For those who would like to make their own filo dough, click here for an authentic home made filo pastry recipe.


Kali Orexi - Bon Appetit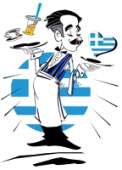 If you love Greek cheese, check out this page, now you can buy all your favorite Greek cheeses, such as Kefalotiri, Mizithra, Kasseri, Kefalograviera, Feta and Manouri.
If you find it hard to buy filo dough pastry to make these recipes, you can now buy all your Greek pastry here!


Kolokithopita - Pumpkin Pie
Tiropita - Cheese Pie
Dolmades
Tzatziki - Yogurt and Cucumber Dip
Hummus
Taramosalata
Eggplant Salad - Melitzanosalata
Grilled Bread
Fried Zucchini, Eggplant, Mushrooms
Skorthalia - Garlic Sauce Dip
Piroski
Cheese and Ham Cake
Cheese Pies Without Pastry
Quick Cheese Pies
If you like this recipe, perhaps you'd like seeing these pages....
Check out our pages of
cooking utensils and appliances
to help make preparing and cooking this recipe much quicker and easier!
Looking for new ideas and inspiration for meals, check out these deals on Food and Cooking Magazines.
Read our reviews of the best Greek Recipe Books!
We've selected the best Greek Music for you to download and play for any occasion!
Return from Spanakopita for more Appetizer Recipes.