BUY GREEK CHEESES
Looking to buy Greek Cheeses? We have searched the internet to find the best source of Cheese from Greece.
If you've had difficulty finding where to buy these cheeses for your favorite Greek recipes, then look no further. We have found all the cheese you will need. They're posted in special bags so you receive them fresh and chilled!
Read this page if you're not sure what is the difference between
all the Cheeses of Greece!
| | | |
| --- | --- | --- |
| | | |
| Exclusive Greek Kasseri Cheese (Saganaki Cheese) With a mild, creamy, smooth, buttery taste, kasseri makes an ideal table cheese. As it doesn't lose its shape when heated, it is also delicious grilled or fried as in Saganaki. | Deli Fresh Barrel-Aged Greek Feta Cheese, approx. 16oz (1lb) Greek Authentic Barrel-Aged Feta is molded into large round forms, which are then stacked into barrels. The cheese ages in these wood barrels for months allowing the cheese to become rich in flavor. Made from fresh milk of sheep and goats. | Belle Chevre Greek Kiss Little mild goat cheese discs are wrapped delicately in a beautiful brined grape leaf, infusing a delightful hint of Greek essence. Makes a gorgeous appearance on any cheese platter. |
| | | |
| --- | --- | --- |
| | | |
| Domestic Greek Feta Cheese, 4lb bucket A 4lb bucket of Greek Feta Cheese, made in USA. Domestic Feta is milder than the imported Greek types. Buy bulk to save! | Orino Kasseri Greek Cheese 900 grams Kasseri is ideal for use as a table cheese, or fried in Saganaki. A medium hard cheese, it has a soft texture, rather stringy, especially when heated, which makes it ideal for adding to pies, lasagne and other baked dishes. | Greek Goat Feta Cheese (Dodoni) 400 g Most feta these days are made with sheeps milk or a mixture. This is Feta Cheese made from Goat's milk, made in Greece by Dodoni. A stronger, sharper taste. Try some! |
| | | |
| --- | --- | --- |
| | | |
| Cheese from Greece Assortment (1.5 pound) Contains three 1/2 pound cheeses, Manouri, Authentic Barrel Aged Feta and Kasseri. If you love Greek Cheese, this is a great deal to try a few different cheeses, either a treat for yourself or someone else! | Cheese Assortment in Gift Box (3 pound) Packaged in a beautiful gift box, an assortment of three all time favorite cheeses, Manouri, Barrel Aged Feta and Kefalotyri. Great gift idea for all lovers of Greek Cheese! | Cheeses from Greece 4pc 2lb(Kefalotiri, Kasseri, Manouri, Feta) 0.5lb each If you love Greek Cheese, you will love this pack! A selection of all time favorite cheeses from Greece, Kasseri, Kefalotiri, Manouri and Barrel Aged Feta. Treat Yourself! |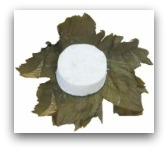 Greek Kiss (4 ounces) by Gourmet-Food.com
Little mild goat cheese discs are wrapped delicately in a beautiful brined grape leaf, infusing a delightful hint of Greek essence. Makes a gorgeous appearance on any cheese platter.
Want to learn more about Feta Cheese, the history, how its made, check out this page!
If you'd like to make your own cheese at home, read this page!
Here are some Greek recipes using Feta and other Greek cheeses.
Cheese Pies - Tiropita - the traditional Greek snack - creamy, salty feta in layers of flaky filo!
Cheese and Spinach Pies - Spanakopita - the classic feta and spinach pies with filo pastry
Pumpkin Pie - Kolokithopita - pumpkin and feta in crispy filo pastry!
Fried Cheese - Saganaki - cheese coated in flour and sauteed, delicious!
Greek Salad - Horiatiki Salata - the classic salad!
Watermelon and Feta Salad - so refreshing and tasty, a delight for all your senses!
Potato and Feta Salad - potatoes, feta and olives in a tangy Greek yogurt dressing
Grilled Squid - stuffed with marinated feta cheese.
Shrimp Saganaki - shrimps or prawns cooked in a delicious tomato and feta cheese sauce.
Honey Cheese Cake - Sifnopitta - a Greek cheese cake using Mizithra cheese.
Check out our beautiful serving plates and dishes for your cheese platters.
Return from looking at Greek Cheeses for more Greek Food