Best Time To Visit Greece
I have to say the best time to visit Greece really depends on the purpose of your visit, whether its for soaking up the sun and swimming in the turquoise waters of the Mediterranean, meeting lots of people or having the beaches to yourself, or to visit all the wonderful historical sites.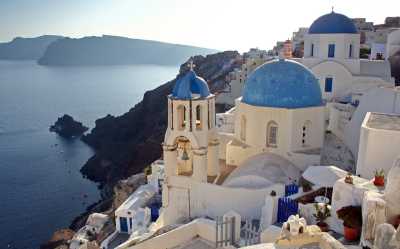 July and August are the most popular months to visit Greece. This is the time Greece is most alive and kicking. It is very hot and busy. It will be crowded in the holiday resorts as Greeks and foreign tourists alike head out of the cities for their holidays. Rooms are hard to find so you really do need to book ahead. This is a great time if you are young, like to meet up with lots of other young people, and the beaches, bars and nightclubs are at their busiest.
August 15th is the biggest holiday in the summer months. The islands will become even busier for a few days, ferries will be booked ahead as well as hotels/rooms. Athens is empty in August as all the Greeks who can, head out to the islands and countryside for their holidays and so it is a great time to visit the capital city.
May-June and September - October is an ideal time to visit Greece. The weather is perfect, still hot, but not unbearably so. The children are in school so its quieter and the businesses on the islands are all still open and have more time for you. The historical sites are less crowded. There is still nightlife around, especially at weekends. The beaches are quite empty, especially on weekdays. This is the time of year when you have more chance of just turning up on an island or somewhere and finding accommodation, and also getting better prices.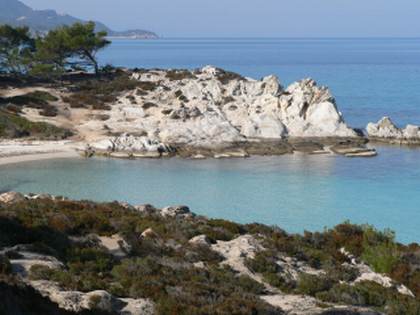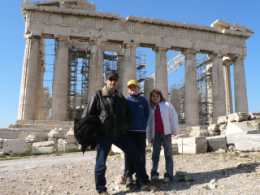 November - March can be quite cold and rainy. You will get some days which have clear blue skies and sunshine but still chilly. It can rain a lot and over the last few years Greece has had a fair amount of snow in winter, some villages become snowed in for a few days. A lot of the shops and businesses on the islands and holiday towns will be closed.
Athens, however is a great place to visit, especially for a bit of shopping. In the evenings there is a great atmosphere in the centre, people are out and about in the streets, shopping, catching up with friends with a coffee or just window shopping. Many hotels will be closed for this season so you should book before arriving, however, you can get some great bargains on accommodation at this time of year.
This is the best time to visit Greece if you are looking to visit the Museums, especially in Athens. If you live in Europe, bring the children for a short winter break, take them around the Acropolis and Museums and give them a great history lesson, they will learn so much more than in a classroom!



Whenever you find is the best time to visit Greece, I hope your holiday is a truly enjoyable one with many memories to cherish.
Don't forget to take lots of photo's to remember your time there. Greece is the perfect place for wonderful photo opportunities, then get your prints framed and mounted for all to see!
Have a browse through our Greek Gift Store
Take a look at these Greek Travel Guides for more information on Greece!





Return from Best Time to Visit Greece to Facts on Greece