Greek Fried Cheese - Saganaki
This Greek Fried Cheese recipe is so simple, quick and easy and yet so delicious.
It can be hard to find Greek cheeses, such as Kefalotiri, Graviera, Kefalograviera or Kasseri outside of Greece. If you can find some, do try it for the experience. See the ads on the right to buy this cheese from Amazon!. If you can't use these cheeses, then I recommend the use of Halloumi cheese in this recipe.
Although Haloumi is not the same as the Greek cheese I would use for this, it has a slightly different taste and texture to Kefalograviera, it is the most suitable cheese for frying, as it holds its shape.
This Saganaki recipe can be included in a meze with some Ouzo, it teams up superbly as a snack to go with drinks. Great as a light supper with a chunk of bread and a green lettuce salad or rocket salad.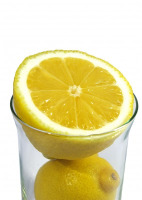 Serve with a squeeze of lemon juice, and some freshly ground black pepper.
Halloumi cheese originates from Cyprus.
Saganaki is the name of the double handled frying pan, originally used to fry cheese and other foods in. Slowly the name was used to refer to the food cooked in the pan as well. As often happens in Greece, the recipe can differ greatly, so Saganaki can be just simply fried cheese. Then again, Saganaki can also refer to a dish with prawns and feta in a tomato sauce that is cooked in a frying pan.

Ingredients
olive oil for frying
8 slices Greek Cheese - Kefalotiri, Kefalograviera,Kasseri or Cypriot Halloumi cheese cut about 1cm thick
freshly ground black pepper
lemon wedges to serve
Preparation
If you are using Kefalotiri, Graviera, Kefalograviera or Kasseri, dip these cheese slices in flour before frying. You don't need to do this with Halloumi.
Heat enough olive oil to just coat the bottom of a large frying pan and heat until hot.
Lay the slices of cheese side by side in the pan.
Make sure the cheese slices are not touching each other.
The cheese will only need about 1 minute on each side.
Be careful as they can burn very quickly, so keep checking.
Cook until they turn a golden colour and crisp slightly, then turn over and cook on the other side.
Remove the fried cheese from the pan and sprinkle with freshly ground pepper.
Squeeze fresh lemon juice over the cheese slices and serve immediately.
Kali Orexi - Bon Appetit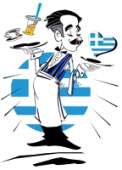 Check out the great ideas on these pages...
Cooking utensils and appliances
will help make preparing and cooking this recipe much quicker and easier.
Read our reviews of the best Greek Recipe Books.
Great selection of Greek Movies, from Zorba or Rembetika to Big Fat Greek Wedding and Mamma Mia.
We've found Amazon.com to have the largest selection (and cheapest prices!) of kitchen and cooking items on the net. Just type any keyword such as Cooking gadgets in the search box.
Return from Fried Cheese for more Greek Appetizers