Pumpkin Pie - Kolokithopita
In Greece, Pumpkin Pie or Kolokithopita is made from pumpkins or marrow. They are both from the same vegetable family and this pie recipe tastes delicious made from either. It has a fabulous creamy texture, contrasting with the crisp
filo pastry.
Pumpkin Pie is a very versatile snack. It is ideal to eat when you are busy and need a snack to keep you going. Or have as a light lunch. It is great to add to childrens lunch boxes instead of boring sandwiches, they love the creamy flavour of the pumpkin and feta cheese mixed together. It is also healthy, packed full of nutrients in the pumpkin and feta cheese.
Ingredients
8 sheets filo pastry
butter, melted (for coating the fillo)
1 large pumpkin (or marrow)
4 eggs
300 gms feta cheese, crumbled
125 gms melted butter
pepper
evaporated milk
Preparation
Cut out all the flesh of the pumpkin or marrow.
Use a Grater
to grate the pumpkin and place on a large plate.
Shake a little salt over it. Leave it for a little while then strain it by squeezing it with your hands to get rid of any juice.
In a Mixing Bowl
, place the pumpkin, along with the eggs, feta cheese, melted butter, pepper and a little bit of evaporated milk. Don't put too much milk in at this stage.
Mix all in together. Separate into 4 portions.
Prepare and grease a large baking tray (it needs to be as long as the length of filo).
On a bench, lay 1 sheet of filo pastry, then using a Pastry Brush
, carefully brush a thin layer of the melted butter over the top of the pastry, add another sheet directly on top and repeat with a coating of butter.
Take one portion of the mixture and place it along the length of the pastry. Don't take the mixture to the very ends, leave a bit of filo dough to be tucked in. Drizzle a little more evaporated milk to the mixture.
Fold the ends over the mixture, like an envelope, then holding it firmly, roll it up.
Place on the baking tray with the loose end underneath. Repeat with the other three portions.
Each length of pie makes four portions. With a sharp knife, carefully cut through the top layer of pastry to mark the portions, (to be able to cut through later without causing the pastry to crack).
Bake at 200 - 220 degrees for about 50 mins - 1 hour. After 25 minutes of cooking, take the tray out of the oven and cut portion marks all the way through. Return to the oven for remainder of cooking.
Pumpkin Pie - Kolokithopita can be served hot, room temperature or cold. Keep in the fridge.
This recipe has been in my family for generations. The only change I have made to this recipe is to use ready made filo pastry as it becomes rather time consuming when you also need to make the pastry!
Pumpkin pie tastes delicious, especially so when made using the home made fillo dough recipe. For those who would like to make their own filo pastry, click here for an authentic home made filo pastry recipe.


Kali Orexi - Bon Appetit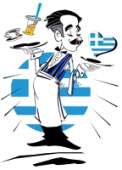 If you love Greek cheese, check out this page, now you can buy all your favorite Greek cheeses, such as Kefalotiri, Mizithra, Kasseri, Kefalograviera, Feta and Manouri.
If you find it hard to buy filo dough pastry to make these recipes, you can now buy all your Greek pastry here!


Spanakopita - Spinach and Feta Cheese Pie
Tiropita - Cheese Pie Dolmades
Tzatziki - Yogurt and Cucumber Dip
Hummus
Taramosalata
Eggplant Salad - Melitzanosalata
Grilled Bread
Fried Zucchini, Eggplant, Mushrooms
Skorthalia - Garlic Sauce Dip
Piroski
Cheese and Ham Cake
Cheese Pies Without Pastry
Quick Cheese Pies
Check out the great ideas on these pages...
Cooking utensils and appliances
will help make preparing and cooking this recipe much quicker and easier.
Read our reviews of the best Greek Recipe Books.
Great selection of Greek Movies, from Zorba or Rembetika to Big Fat Greek Wedding and Mamma Mia.
We've found Amazon.com to have the largest selection (and cheapest prices!) of kitchen and cooking items on the net. Just type any keyword such as Cooking gadgets in the search box.
Return from Pumpkin Pie for more Greek Recipes