Hummus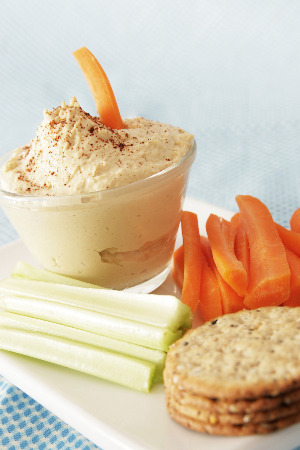 A very versatile dip, hummus can be served as part of a meze, with fresh crusty bread or pita bread to be dipped in to, or to jazz up an everyday meal.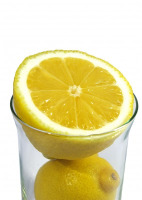 Ingredients
175g chick peas, soaked overnight
2 cloves of garlic, chopped
Juice of 1 1/2 lemons
4 tablespoons sunflower oil (or other good quality vegetable oil)
1 1/2 teaspoons cumin
300 ml chick pea cooking liquid
salt and black pepper
Optional:
2 tablespoons tahini paste
(If you don't use the tahini paste you may need to add a little more oil)
(Tahini paste can be found in supermarkets, deli's or health food shops.)
To Decorate:
Olive oil
Paprika
Preparation
Rinse the (soaked) chick peas.
Put in a large saucepan, cover with plenty of water and bring to the boil.
Once it is boiling you will need to skim off the foam on the surface of the water until it comes clean.
You mustn't skip this part, otherwise the beans will have a very sour taste.
Cover and cook until the beans are soft. This is about 1 hour in a saucepan or about 20 minutes in a Pressure Cooker.
Strain the chick peas in a Colander,
remembering to keep the cooking liquid.
Crush the garlic using a Garlic Press.
Use a Citrus Juicer
to get freshly squeezed juice from 1 1/2 lemons.
The rest of the process is in a food blender or processor. Depending on the size of the blender you will most likely need to do it in two batches.
So, dividing all the rest of the ingredients into two, put one batch into the blender and blend until a runny consistency.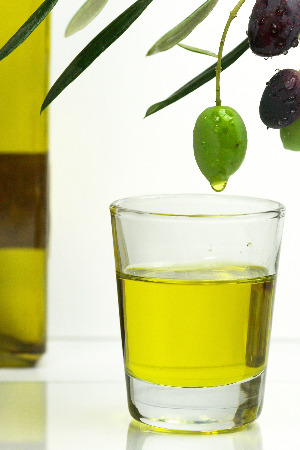 If it is too dry you can add more liquid. Dont blend for too long.
Make the second batch as the first one.
Refrigerate until ready to serve.
To serve, place a good amount of hummus on a plate, drizzle with a little olive oil and possibly some paprika.
Kali Orexi - Bon Appetit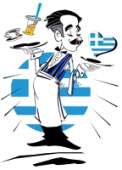 Spanakopita - Spinach and Feta Cheese Pie
Kolokithopita - Pumpkin Pie
Tiropita - Cheese Pie
Dolmades
Tzatziki - Yogurt and Cucumber Dip
Taramosalata
Eggplant Salad - Melitzanosalata
Grilled Bread
Fried Zucchini, Eggplant, Mushrooms
Skorthalia - Garlic Sauce Dip
Piroski
Cheese and Ham Cake
Cheese Pies Without Pastry
Quick Cheese Pies




More tasty recipes using legumes
Enjoy what you see? Here's some more interesting stuff...
Make cooking this recipe quick and easy by using some of these wonderful kitchen utensils and appliances.
Or search yourself, we've found Amazon.com to have the largest selection (and cheapest prices!) of kitchen and cooking items on the net. Just type any keyword such as Cooking gadgets in the search box.
If you love cooking, get some great ideas and new recipes from these Food and Cooking Magazines
Check out our Greek music to accompany your next Greek meal!
Return from Hummus for more tasty Appetizer Recipes