Garlic Sauce Dip - Skorthalia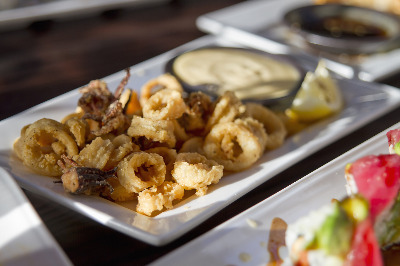 Garlic sauce dip, or Skorthalia, is a very popular dip in Greece and there are many variations to be found around the Mediterranean. It was a favourite with ancient Greeks.
A humble dip, it is a perfect accompaniment to fried aubergines or courgettes (eggplant or zucchini), fried fish or beetroot salad. You will often find it as a part of a meze platter.
Ingredients
1 whole garlic (adjust to taste)
dry/stale white bread
2 teacups extra virgin olive oil
1/3 teacup vinegar

To Decorate
parsley
olives
Preparation
First cut the crusts off the bread. Soak in water, then wring well to get all the excess water out. You will need enough to fill 2 teacups.
Peel the garlic. You can use as much or as little as you like, but bear in mind this is a garlic sauce.You will need to beat the garlic cloves to a pulp using a pestle and mortar.
At this stage you can either carry on beating by hand or transfer the garlic to a food processor. Add the bread and work it in with the garlic to a cream.
Then add the oil and vinegar, a little bit at a time, until it is all mixed in.
If it becomes too thick you can dilute it with a bit of water.
To serve, place it in a shallow bowl and dress it with the chopped parsley and olives.
Store it in the fridge.
Kali Orexi - Bon Appetit.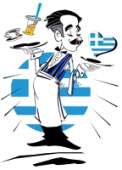 Spanakopita - Spinach and Feta Cheese Pie
Kolokithopita - Pumpkin Pie
Tiropita - Cheese Pie
Dolmades
Tzatziki - Yogurt and Cucumber Dip
Hummus
Taramosalata
Eggplant Salad - Melitzanosalata
Grilled Bread
Fried Zucchini, Eggplant, Mushrooms
Piroski
Cheese and Ham Cake
Cheese Pies Without Pastry
Quick Cheese Pies



If you like this recipe, perhaps you'd like seeing these pages....
Check out our pages of
cooking utensils and appliances
to help make preparing and cooking this recipe much quicker and easier!
Looking for new ideas and inspiration for meals, check out these deals on Food and Cooking Magazines.
Read our reviews of the best Greek Recipe Books!
We've selected the best Greek Music for you to download and play for any occasion!
Return from Skorthalia for more Greek Appetizers