Cheese Pies Without Pastry
Tiropita Horis Fillo
Cheese pies without pastry is an easy appetizer recipe to make, doing away with the hassle of making pastry, and it still tastes great. These are ideal to serve as party food, or as a daytime snack. Ideal as a lunchbox alternative to sandwiches for children.
Ingredients
1 teacup margarine/butter
3 teacups plain flour
3/4 teacup grated kefalotiri cheese (or any other hard cheese)
1 egg, separated
1 level teaspoon salt
1 level teaspoon baking powder

Preparation
Sieve the flour, salt and baking powder into a mixing bowl and mix together well.
Add the cheese, butter and 1 egg yolk. Mix in together well to make a dough.
You can make whatever shapes you like, though traditionally cheese pies are made in a half moon shape. Beat the egg white a little and then brush a little of this over them.
Bake in a medium oven, about 325-350F, 160-180C for about 15 minutes.
Kali Orexi - Bon Appetit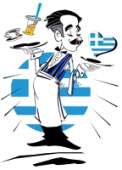 Spanakopita - Spinach and Feta Cheese Pie
Kolokithopita - Pumpkin Pie
Tiropita - Cheese Pie
Dolmades
Tzatziki - Yogurt and Cucumber Dip
Hummus
Taramosalata
Eggplant Salad - Melitzanosalata
Grilled Bread
Fried Zucchini, Eggplant, Mushrooms
Skorthalia - Garlic Sauce Dip
Piroski
Cheese and Ham Cake
Quick Cheese Pies



Enjoy what you see? Here's some more interesting stuff...
Make cooking this recipe quick and easy by using some of these wonderful kitchen utensils and appliances.
Or search yourself, we've found Amazon.com to have the largest selection (and cheapest prices!) of kitchen and cooking items on the net. Just type any keyword such as Cooking gadgets in the search box.
If you love cooking, get some great ideas and new recipes from these Food and Cooking Magazines
Check out our Greek music to accompany your next Greek meal!
Return from Cheese Pies Without Pastry for more Appetizer Recipes