Cheese And Leek Recipe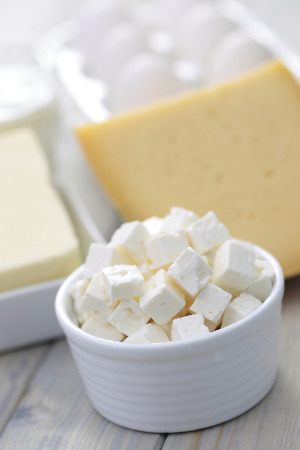 This cheese and leek recipe is appetising and delicious, and its healthy too!
Pies are the most popular form of light meals or snacks and most often cheese and a vegetable are the main ingredients.
This cheese and leek pie is different as it is not made with pastry.
A great dish to serve for lunch with a light green salad or ideal as a packed lunch.
For a light meal serve withsalad and a Greek dip.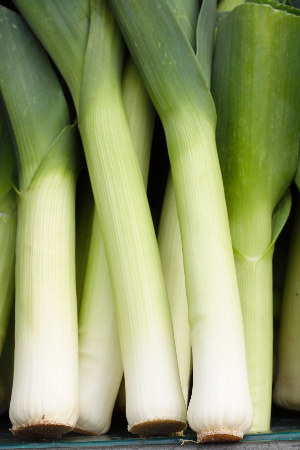 Vegetables are used abundantly in Greece, you won't have a meal without some type of salad or vegetable being included in the meal.
This is another example of how versatile the Greeks are at using these recipes to add variety to everyday vegetables.

Ingredients
1 onion, sliced
2 large leeks, thinly sliced
50g butter
60ml extra virgin olive oil
115g plain flour
1/2 tsp bicarbonate of soda
3 large eggs, beaten
200g Greek yogurt
300g feta cheese, crumbled
115 g Greek Graviera or fresh parmesan cheese, grated
3-4 tblspn fresh dill, chopped
freshly ground salt and black pepper

Preparation
Preheat the oven to 180C, 350F, Gas 4
Lightly grease a deep baking dish, I use a 28 x 17cm dish.
Heat the oil and butter in a large frying pan and fry the onion until slightly golden in colour.
Add the leeks and cook for about 10 minutes over a low heat until soft.
Leave to cool slightly.
Sift bicarbonate of soda and flour into a bowl.
Add the beaten eggs, yogurt, feta and onion and leek mixture to the bowl and stir in.
Keep to one side about 2 tablespoons of the parmesan cheese and add the rest to the mixture along with the dill.
Mix well together and season with salt and pepper.
Spoon the mixture into the baking dish.
Sprinkle the rest of the grated parmesan cheese over the top of the mixture.
Bake for 40-45 minutes or until a golden brown.
Remove from the oven and leave the pie to cool completely before removing from the tin.
Serve cool or at room temperature.
Kali Orexi - Bon Appetit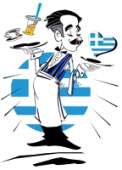 If you like this recipe, perhaps you'd like seeing these pages....
Check out our pages of
cooking utensils and appliances
to help make preparing and cooking this recipe much quicker and easier!
Looking for new ideas and inspiration for meals, check out these deals on Food and Cooking Magazines.
Read our reviews of the best Greek Recipe Books!
We've selected the best Greek Music for you to download and play for any occasion!
Return from Cheese and Leek Recipe for more Easy Vegetable Recipes

Return from Cheese and Leek Recipe for more Appetizer Recipes