Greek Coffee - Elliniko Cafe
Greek coffee - also widely referred to as Turkish coffee, originated in the Arab countries.
It was very quickly adopted in Greece, and it is
still the most favourite style of coffee,
and is now a way of life.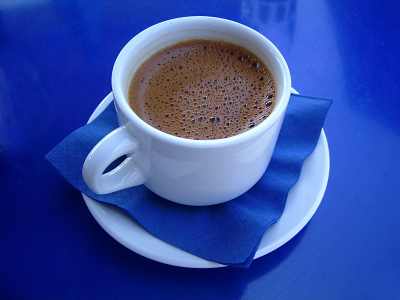 In olden days you had little Cafeneions everywhere which were the domain of men only, where the men would while away the hours, slowly sipping their Greek coffee, whilst contemplating life, singing along to the music playing or having a game of tavli (backgammon).
The women would find a break in their daily routines to meet with friends or a neighbour and savour a coffee whilst catching up on the local gossip.
Although these stereo typical ways have been replaced with modern people and Cafes in Greece, the excuse to stop time whilst slowly enjoying a coffee has not diminished.
As with many things in Greece there is an elaborate performance to preparing a Greek cafe, one which is never rushed, nothing missed and very precise. I feel the almost ritual-like preparation only enhances the anticipation of a special moment.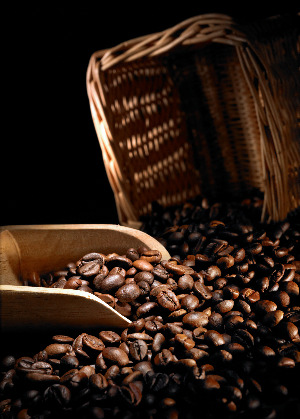 Elliniko cafe is made in a small coffee pot - normally copper or brass, with a long handle, which is called a briki.
The difference to instant coffee is that you put all the ingredients in the pot and brew it together.
Greeks are so particular about making their coffee they will actually buy a little gas single burner (like the one used in camping) just to have to use for their coffee. This is because most households in Greece cook on electric stoves and electric cannot be regulated like gas to control the heat to enhance the frothy foam that forms on the top of the coffee as it brews. All my family and friends I know in Greece use this method to make their coffees. But please do not be put off if you only have electric.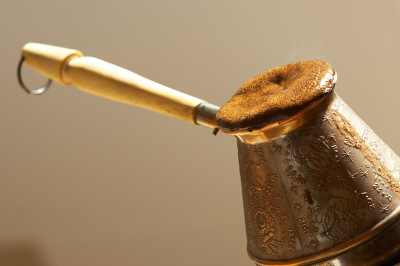 They say the Greek coffee pleases all your senses!
First your eyes, the look of it.
the touch, touching the cup.
the smell, the aroma of the coffee
the sound, as you sip it - the Greeks sip it loudly!
the taste, superb!
No wonder it is so special.
The average Greek will drink 2-3 coffees a day.
It is always served in a small (espresso size) white coffee cup with matching saucer, along with a glass of iced water.
It is sediment based. Once you have drunk the coffee - the sediments are left at the bottom of the cup.
Many women have tried their hand at fortune telling. You place the cup upside down over the saucer for the sediment to dry out and from whatever pattern forms - your fortune is foretold!
PROPORTIONS FOR GREEK COFFEE
It is best not to make more than 2 coffees at one time or else you will lose the froth on the top that so many love and it won't produce the best results.
If you do not have a briki, you can use a small saucepan.
Into the briki add one small coffee cup of water per person.
Add one teaspoon of Greek coffee per cup.
Also add the sugar depending on sweetness required.
Medium - metrio is 1/2 to 1 teaspoon sugar,
Sweet - glyco is 1 1/2 to 2 teaspoon sugar,
None - sketo has no sugar and can be very strong.
I would recommend if you have never tasted this style of coffee before to have at least 1 teaspoon of sugar as it is very strong, and then adjust to your preference. I never have sugar in my instant coffee or even capuccino's yet I do like to drink mine sweet and strong.
Place the briki or saucepan over the heat, stir well until the sugar and coffee are diluted.
When the liquid comes to the boil, it forms a ring of foam, starting from the outer rim and as it boils the rim closes and the coffee rises.
You need to take the coffee off the heat just before the ring is fully closed - that is if you like your coffee strong and heavy.
If you let the ring close and rise more, the coffee will become weaker.
The whole difference between strong and weak coffee is about 1 second as it starts to rise, so you have to be quick.
Pour it immediately amongst the prepared cups and serve along with a glass of iced water.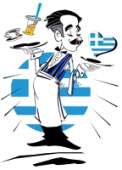 Check out this page with Greek coffee supplies, pots or briki to brew the coffee, and delightful cup and saucer sets to serve them!
You can find a large selection of Greek coffee supplies, coffee cups, pots - briki and other items at Amazon.com
Just type your keywords, such as Greek coffee or espresso cups into this search box below.
Do You Have a Greek Coffee Story?
Almost every Greek loves Greek Coffee!
Many foreigners take a bit longer to get used to it, either loving it or hating it!

It took me two to three years to like it, now I love it.
Do you like Greek Coffee?
Do you have a story or an amusing experience with Greek Coffee?
Do you know of any other traditions involving Greek Coffee?

Share your story or experience of Greek Coffee with other lovers of Greek Food. We'd love to hear all about it!
Your Greek Coffee Tales
Click on the links below to read Greek Coffee Tales submitted by other Greek Food lovers to this page.

Lou's Drinking Dirt Again...

I developed a love of Greek coffee while living there in 1990. Every morning I drink two cups from the little cup and saucer I brought back from Crete …
Greek Coffee @ home in India Not rated yet
I have spent time in Greece and have also visited Egypt. So I had enough time to get addicted to Greek coffee. I brought back the coffee and the ibrik …
60 Days in Greece Not rated yet
I went to Greece in 2008 for 60 days. I just love the way the Greeks live and have lived for thousands of years. Now I live in Germany and I cant seem …
Return from Greek Coffee to Interesting Facts About Greek Food