ROASTED VEGETABLE - BRIAMI
Briami, roasted vegetable is a great alternative to the old plain roast potatoes.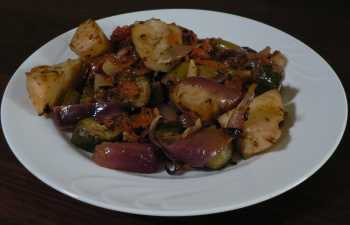 Along with the potatoes, you have zucchini, red onion and celery roasted until the tomatoes and herbs mingle all together with the vegetables, giving the meal a wonderful fresh intense flavour.
The aroma of roasting vegetables wafting from the oven will have your taste buds dripping in anticipation for this dish.
This is great way to liven up an otherwise dull meal as well as including serving a tasty vegetable dish.
This meal in Greece is also known as briam.
Serve roasted vegetable with either roast, grilled or barbecue meat.
Ingredients
6 large tomatoes
3 medium potatoes, peeled
3 medium red onions, peeled
3 medium zucchini
2 sticks celery
3 tablespoons fresh parsley, chopped
2 tablespoons fresh dill, chopped
3 cloves garlic, crushed
120 - 150ml olive oil
salt, pepper
Preparation
Oil a large baking tray.
Thinly slice all the tomatoes and place half of them in a single layer on the bottom of the tray.
Cut the potatoes and onion into wedges.
Slice the celery into 2 or 3cm lengths.
Slice the zucchini lengthwise in half and then slice into 2 or 3cm lengths.
Add these vegetables on top of the tomatoes.
Place the other half of the sliced tomatoes on top.
Over the tomatoes, sprinkle the crushed garlic and chopped herbs.
Season with salt and pepper.
Drizzle the olive oil all over the top.
Place the baking tray, uncovered, in a hot oven and bake for about 40 minutes.
Remove the tray from the oven, stir the vegetables so they are all mixed well with the tomatoes and herbs.
Return to the oven and cook until the roasted vegetable are cooked.
This will depend on your oven, but allow approx 40 minutes to 1 hour.
Serve.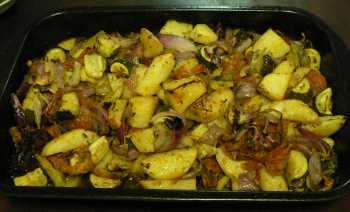 Kali Orexi - Bon Appetit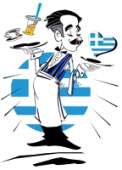 Return from Roasted Vegetable - Briami to more Easy Vegetable Recipes