Greek Potatoes and Beans
Yachni
Greek Potatoes and Beans -Yachni is a wonderful, imaginative way of serving vegetables in a tomato based casserole.
No more boring boiled spuds and beans.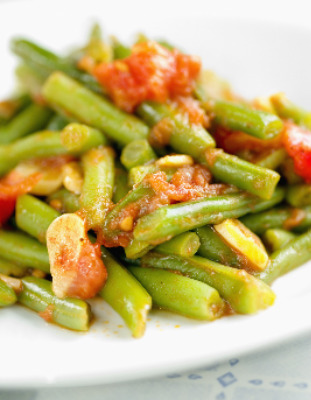 This dish is tasty, filling and healthy as the vegetables are cooked in the sauce. One reason why so many people don't like their vegies is because they were brought up being served the same old food, boiled to death and devoid of flavour.
Do yourself a favour and try this Greek potatoes recipe next time you want to cook vegetables.
This Greek potato recipe is suitable as a meal in itself, as the Greeks have it, with a lettuce salad, feta cheese and chunks of fresh crusty bread to dip in the sauce. Or serve as a side dish to chops or steaks.
The only thing I have changed with this Yachni recipe is to reduce the amount of olive oil. The Greeks would normally use copious amounts of it!
If you wish you can add other vegetables, such as cauliflower.

Ingredients
100ml, 1/4-1/2 cup olive oil
2 onions, sliced
2-3 cloves garlic, crushed
1kg potatoes, quartered
2 sticks celery, sliced
400-500g green beans
2-3 carrots, thinly sliced
450g tomatoes, grated
2-3 tablespoons tomato puree
250ml, 1 cup water
2 tblspn fresh flat leafed parsley, chopped
1 tspn sugar
salt, pepper

Preparation
Heat olive oil in a large casserole saucepan and fry onions and garlic until turned a golden colour.
Add the tomatoes and simmer until they have softened.
Add potatoes, celery, green beans, carrots, salt and pepper, sugar and parsley.
If you are cooking in a normal saucepan add the tomato puree and water, cover and simmer for about 30-35 minutes or until the potatoes are tender.

If using a pressure cooker, add 1/2 cup water but not the tomato puree at this stage.
Bring to pressure and cook for 20 minutes.
Remove the lid, mix tomato puree with 1/2 cup water and add to the saucpan.
Stir until just combined and simmer for 5-10 minutes to thicken into a nice sauce.
Can be served hot or like many Greek tomato and oil based meals, can be served at room temperature.
Have a look at our range of Saucepans, Pressure Cookers and other cooking appliances to make cooking easy!
Kali Orexi - Bon Appetit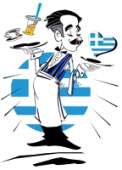 Have a look at some of our healthy Greek Salad Recipes


Return from Greek Potatoes for more Easy Vegetable Recipes