CHRISTMAS BREAD - CHRISTOPSOMO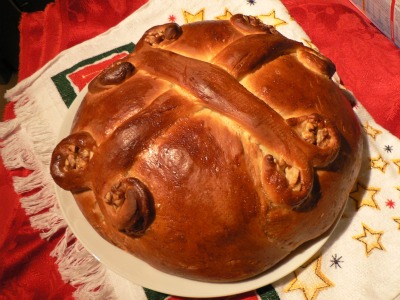 There is no better bread to bake for the holiday than this delicious Greek Christmas Bread - Christopsomo, a slightly sweet, light, buttery bread, infused with cinnamon, orange and cloves, all the warm flavours of Xmas.
It has a lovely melt in your mouth texture, and is a great bread to make to have for Christmas breakfast or as a snack, whatever your religion.
Christopsomos in Greek literally means Christ's bread.
Like all Greek religious holidays, there are special foods that are made just for those occasions.
Some of the celebratory foods made at Christmas in Greece are favourites such as Kourabiethes and Melomakarona, although of all foods, bread has the most religious significance in the orthodox church.
In fact there are many different breads made in Greece especially for religious holidays, such as Tsoureki for Easter.
Christmas bread is made the day before Christmas, and there is a lot of care and attention put into the baking of it, the best quality, fresh ingredients are bought especially to make it. It is then eaten traditionally, on Christmas Day.
The Christmas bread is usually round in shape, the top is decorated from the dough with a byzantine cross flavoured with aniseed, the ends of the cross swirling around golden walnuts.
Other variations with decorating the loaf, can be to use the dough to make a family crest or shapes representing the family's profession.
There are many, many variations to this recipe all over Greece. For example, the Christopsomo Sfakiano - is a particular recipe from Sfaka in Crete. They cover this bread with sesame seeds.
Another alternative christmas bread recipe is the Christopsomo Zakintho, which is from the island of Zakinthos. Their recipe includes dried fruit.
The method below is for a traditional bread, which has the flavourings added to the bread but not the cross, which remains "pure" and cleansed with the aniseed. If you are not too concerned with this, you can add the orange and spices along with the flour at stage 7, which makes it easier for these flavourings to be more evenly spread through the dough, doing away with steps 14 and 15.
See below for some photo's.
Ingredients
15g/1/2 oz fresh yeast OR 2 teaspoons dried yeast
180ml/ 6 fl oz/ 3/4 cup lukewarm milk
450g/ 1-lb / 4 cups white bread flour
2 eggs
75g / 3 oz / 6 tbspn caster sugar
2.5 ml / 1/2 tspn salt
75g / 3oz / 6 tbspn butter, softened
grated rind of 1/2 an orange
5ml / 1 tspn ground cinnamon
1.5ml / 1/4 tsp ground cloves
pinch of ground aniseed
8 walnut halves
1 egg white, beaten, for glazing
You can replace the ground aniseed with 1 teaspoon of ouzo.
Preparation
In a large Mixing Bowl add the yeast and the milk and stir until the yeast has dissolved.
Stir in just 115g/ 4oz / 1 cup of the flour.
Using a Wooden Spoon, stir to make a thin batter.
Cover with cling film and leave in a warm place for about 30 minutes.
Beat the eggs and sugar until light and fluffy.
Add this to the yeast mixture and beat in.
Gradually add the rest of the flour and salt and beat in.
Beat in the softened butter, then knead until it becomes a soft, but not sticky dough.
Turn onto a lightly floured surface and knead for about 10 minutes until smooth and elastic.
Put the dough in a clean, lightly oiled bowl, cover with cling film and place in a warm place to rise until it doubles in size (about an hour).
Place on a floured surface and knead a few times to knock back.
Cut off a small piece of dough - enough to create 2 ropes for decoration.
Cover and set aside.
Stretch the dough out into an oblong shape and sprinkle the orange rind, ground cinnamon and cloves over the dough.
Bring the sides up and over to cover the flavourings, then gently knead the dough until the orange and spices are evenly blended through the dough.
Shape the dough into a round bread shape.
Lightly grease a Baking Sheet and place the bread on it.
Take the spare dough you cut off earlier and knead the aniseed into it.
Cut this dough in half and shape into 2 long ropes.
Make a cut in the ends of the rope lengthways about 2-3 inches/ 7 cm.
Make a cross on top of the bread with the ropes.
Curl each split end into a circle, in opposite directions.
Place a walnut half into the middle of these circles.
Cover the dough with lightly oiled cling film and leave in a warm place for about 1 hour or until it has doubled in size.
Preheat the oven to 190 oC, 375oF, Gas 5.
Using a Pastry Brush, glaze the dough with the beaten egg white.
Bake in the oven for 30-40 minutes or until golden.
Place the baked christmas bread on a wire Cooling Rack to cool completely.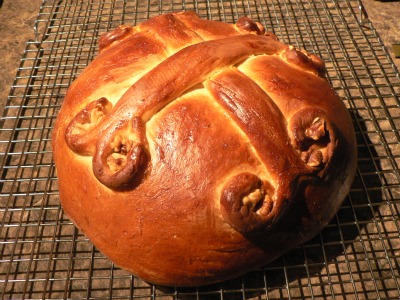 Kali Orexi - Bon Appetit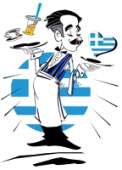 Read more about how the Greeks celebrate Christmas in Greece.

Return from Christmas Bread for more Greek Bread Recipes