YOGURT CAKE - YIAOURTOPITA
Yogurt cake - Yiaourtopita makes a wonderfully light, sponge like cake that literally melts in your mouth. As with many Greek dessert recipes a sweet syrup is poured over the cake and allowed to absorb before serving.
This is a wonderful Greek dessert recipe to make to serve at any time.
Ingredients
1 teacup butter
1 level teacup sugar
3½ teacups flour
320grams Greek yogurt
4 eggs, separated
1/3 teacup brandy
1 teaspoon baking soda
small amount of grated lemon peel
1 teacup of crushed walnuts
a few drops of lemon juice
SYRUP
2 teacups sugar
1½ teacups water
1 teaspoon vanilla essence
1 tablespoon lemon juice
Preparation
Beat the egg whites until peaks form.
In a separate mixing bowl, beat the butter, add the sugar and beat well.
Add the egg yolks and continue to beat in to the mixture.
Add the baking soda to the brandy and add to the butter mixture, along with the lemon peel.
Add the egg whites to the mixture, with a few drops of lemon juice and stir in slowly with a metal spoon.
Next add the walnuts, flour and yogurt. Stir well with a metal spoon until all is mixed in.
Bake in a moderate oven (160-180 C)(325-350F) for about 35 - 45 minutes or until golden color and cooked through.
To make the syrup put all the ingredients into a saucepan and boil for about 10 minutes. It will slightly thicken. Leave to cool whilst the cake is baking.
When the yogurt cake comes out of the oven, pour the syrup over the hot cake whilst still in the tray and then leave in the tray to cool, absorbing the syrup.
It is important for the cake to be hot and the syrup to be cool when pouring the syrup over the cake.
Kali Orexi - Bon Appetit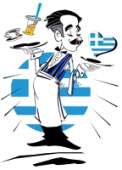 Return from Yogurt Cake to Greek Desserts Recipes