Kataifi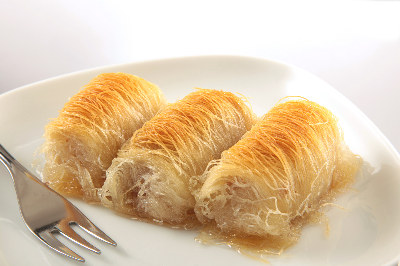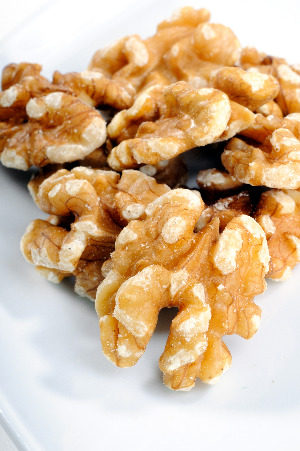 Kataifi, along with Baklava is one of the most popular and delicious Greek Desserts. It is made with a special type of pastry called kataifi or kadaifi. The pastry is like angel hair pasta and when rolled up resembles shredded wheat. It is often referred to as shredded wheat dessert.
A delectable nutty centre is rolled inside crisp, thread like strands of pastry, baked, then soaked in a sweet syrup. Like many Greek dessert recipes a sweet syrup is poured over the cooked sweets, which keep them from drying out and preserves them. This is a recipe that is also found in Turkey and other Middle Eastern countries.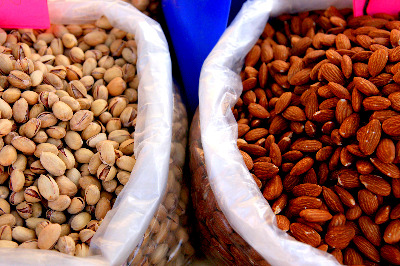 Some traditional Greek recipes use only almonds, but I prefer a mixture of almonds and walnuts. You could also add pistachios. Vary to your preferences.
The pastry - pronounced Ka-ta-ee-fi, can be found at Eastern Food specialty shops and some supermarkets, generally where you find phyllo pastry. If you buy frozen, allow to defrost to room temperature, before using. Click here to buy Kataifi pastry online.
As the pastry is full of strands, it doesn't matter if you cut them, or pull them apart, you can be messy with this, in fact, its hard not to be messy!
Don't skimp on drizzling the butterover the pastry, its what gives the strands a lovely golden color, stops them from sticking together whilst cooking and imparts a delicious melt in the mouth flavour.
Ingredients


500g (1lb) Kataifi pastry
180g (6oz) butter, melted
Filling


300g (10oz) walnuts and blanched almonds, chopped coarsely
50g (2oz) sugar
1 egg white, beaten lightly
1 teaspoon ground cinnamon
Syrup


300g (10 oz) sugar
300ml (1/2 pint) water
thin strip of lemon peel
1 teaspoon lemon juice
1 tablespoon honey
To Garnish


50g (2 oz) pistachio nuts, chopped coarsely
Preparation
Pre-Heat oven to 180C, 350F, Gas 4
Brush a large baking dish with a little of the melted butter.
You can put the nuts in a food processor to chop up into small pieces.
Place all the filling ingredients in a bowl and mix well.
Spread the pastry out on a bench, pulling apart slightly so its not clumped up.
Cover with baking paper and a clean damp towel to stop it drying out whilst working with it.
Pull out a handful of dough at a time, spread it out into a rectangular shape.
Brush or sprinkle the melted butter over the pastry.
Place a tablespoon of the filling along the middle of the pastry.
Tuck the sides and ends in and then roll it up firmly, keeping any loose strands in place.
Roll tightly so the filling is enclosed securely.
It will look like a short fat cigar.
Don't worry if its very messy looking!
Place in the baking tray, seams side down.
Repeat with the rest of the ingredients.
Place them fairly close together in the tray, but not touching, otherwise they will not crisp up.
Brush the melted butter over all the tops and sides of the pastry.
Bake in the oven for approx 30 minutes, depending on your oven, or until lightly golden brown and cooked.
Be careful here, as they can cook very quickly if they are not too thick, especially the outer edges of the pastry.
Whilst they are cooking, make the syrup.
Place all the syrup ingredients in a saucepan and bring to the boil.
Stir to dissolve the sugar, then simmer for 10 minutes, or until slightly thickened.
When the kataifi are cooked, remove from the oven, leaving them in the baking tray.
Pour all the syrup over the pastry rolls.
Sprinkle with the chopped pistachio nuts.
Leave to stand, covered for a couple of hours for the flavours to infuse and to soak up the sweet syrup.
Keep in a covered container at room temperature, to prevent drying out.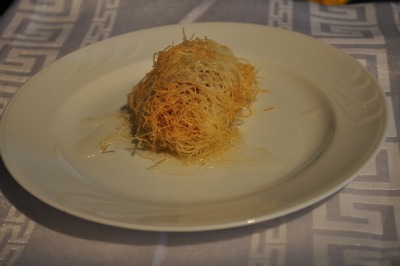 Kali Orexi - Bon Appetit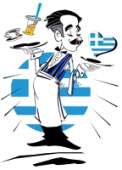 If you find it hard to buy kataifi dough pastry to make this recipe, you can now buy all your Greek pastry here!
Have a look at these beautiful Dessert Bowls and Plates, ideal for serving all these Greek desserts!
If you don't have time to make this recipe, you can Buy Baklava, Kataifi and other Greek desserts online.
Your Kataifi
Have you used Kataifi with great success?
Got some great tips for how to use Kataifi?
Tell us about it!

Do you use Kataifi pastry in other recipes?
Share them with other lovers of Greek food!

We'd love to see how else it can be used!

Having trouble sourcing this pastry or found a reliable source?
Share it here to help others find and bake this delicious dessert!
Return from Kataifi for more delicious Greek Desserts