Chicken Fricassee
Kotopoula Frikase
Chicken Fricassee is a wonderful tasty chicken casserole with the classic Greek Avgolemono Sauce to add a subtle creamy citrus flavour.
Ingredients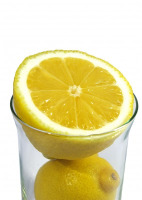 1.9kg chicken pieces
2 large onions
1/2 stick celery, finely chopped
1 tablespoon fresh dill, finely chopped
2-3 carrots, finely chopped
1/2 teacup butter or vegetable oil
2-3 eggs, room temperature
juice of 2 lemons
salt and pepper
3 tablespoons flour
Preparation
You can use either 1 large chicken, chopped into small portions, chicken pieces or chicken thighs.
Put the chicken in a large casserole saucepan and cover with water.
Boil for about 5 minutes.
Drain the water and saute the chicken with 1/2 the quantity of butter lightly.
Add the onions and saute.
Add plenty of water to the saucepan to cover the chickens fully.
Add to them the carrots, dill and celery, salt and ground black pepper.
Let it simmer until about 3 teacups of water left and the chicken is cooked.
Take off the heat, remove the chicken and keep on a covered plate to keep warm.
With the liquid and vegetables, we put them in a blender to process into a sauce.
Over a low heat, melt the rest of the butter in the saucepan and bit by bit, add the flour and mix in well with the butter.
Slowly add the processed sauce to the flour mix, beating well each time to avoid getting any lumps, until the flour dissolves into the sauce.
Stir the sauce really well over the heat for the sauce to slowly thicken.
Remove from heat.
Separate the egg yolks from the whites and place the egg yolks in a bowl.
Beat the eggs yolks with a whisk or mixer until light and frothy.
A little at a time, add the lemon juice, mixing well between adding, until it is all mixed together.
Take a spoonful of the hot sauce and add to the egg and lemon mixture, beating it in well.
Do this again with a couple more spoonfuls of sauce, each time taking care not to put too much in too quickly, otherwise the sauce will curdle.
We are trying to bring the egg and lemon mixture close to the temperature of the sauce.
Pour the egg and lemon mixture into the sauce and shake the saucepan to blend in together.
You may need to stir it through, if so, be very gentle and do so for a short stir. Stirring quickly and for a long time may spoil the sauce.
Season with salt and pepper.
Place the chicken fricassee on a serving plate and pour the sauce over the chicken to serve.
Chicken fricassee goes well served with a side dish of rice or french fries, a green salad and plenty of freshly cut bread to dip in the delicious sauce.
Kali Orexi - Bon Appetit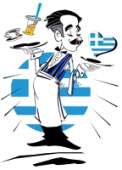 Return from Chicken Fricassee - Kotopoula Frikase for more Greek Chicken Recipes