Chicken Casserole with Okra
Kotopoulo Me Bamies
Tender melt in your mouth chicken served with tasty nourishing okra in a tomato sauce will make this chicken casserole recipe a hit with family and friends.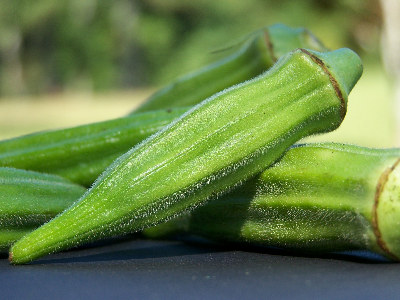 This meal is very popular in Greece and its not hard to understand why once you have tried this delicious meal. If you haven't had okra before this is a great tasting recipe to start with. When shopping, fresh is much more preferable than frozen (if possible), and try to pick out smaller size instead of large ones. The large vegetables can be a bit stringy.
Ingredients
1.4kg chicken, cut into portions
800g - 1kg okra
1 medium onion, finely chopped
3/4 teacup oil - combined vegetable and olive oil
400g fresh or canned tomatoes
1 tablespoon tomato puree, diluted in 200ml water
1 tablespoon oregano
salt and pepper
Preparation
Prepare the chickens,cut them into portions and put salt and pepper on them.
In a large saucepan, saute the chicken until browned in the oils.
Remove the chicken from the pan and saute the onions.
Return the chicken to the pan with the tomatoes, (if using fresh tomatoes, dice them in a blender first), tomato paste and water, and oregano.
Cover and cook for 30 minutes.
To prepare the okra, slice the heads off the stalks, very thinly to as to not let the juices and the seeds inside become exposed.
Put them in a bowl of cold water, carefully wash them and then strain the water. You may have to do this a couple of times if the water does not come clean the first time.
Add the okra to the saucepan, stir the okra in carefully, just enough to ensure it is mixed in and sitting in the sauce.
You can shake the saucepan to help it settle. After this do not stir the casserole as once the okra becomes soft it will break up.
Add more seasoning if necessary.
Cook for about 25 more minutes or until cooked.
Check to see if it has enough liquid at this stage, if it looks like drying up add more water.
Serve with a slice of feta and a side serving of rice.
Kali Orexi - Bon Appetit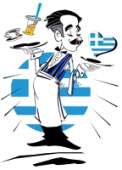 Return from Chicken Casserole with Okra for more Greek Chicken Recipes