Pork Recipe with Broad Beans
Kreas Fasolia Xira
This pork recipe with broad beans is a traditional Greek dish. It is tasty and filling, making it an ideal mid week meal.
Pork is the most popular meat in Greece, and beans or legumes are often added to casseroles along with the meat, to add variety and flavour to the meal.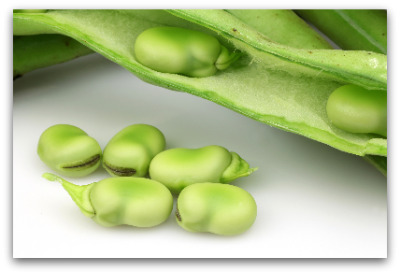 Pork loin would be most suited to this recipe.
Ingredients
1.3Kg Pork
640g broad beans, soaked overnight.
1 medium onion
1/3 - 1/2 teacup butter
400g fresh tomatoes or 1 large tin tomatoes
2 tablespoons parsley, finely chopped
salt, pepper
water
Preparation
The night before, wash and soak the broad beans in a bowl with plenty of water to cover and leave to soak overnight.
Cut the meat into portions, wash and dry well.
Put it in a casserole with butter to saute.
Add the finely chopped onion and saute.
Put the tomatoes in a blender/processor to chop up small and add to the meat with the salt, pepper, and parsley.
When it starts boiling, add 1-2 teacups water.
Drain the broad beans and then put them in a clean saucepan with enough water to cover.
Boil for 15 minutes on their own.
Drain the beans and add to the meat.
Cover and simmer for at least 30 minutes - beans must be well cooked, add more water if needed.
When the pork recipe is ready the beans will be soft and there will be a little thick sauce left in the saucepan.
The Greeks mostly use pork for this meal, but you can use either beef or lamb. This is an ideal winter meal.
Clean and wash the leeks. Cut into 4 or 5 pieces.
Put the leeks in salted boiling water and boil for 1 minute. Drain them.
Cut the meat into portions, and salt and pepper it.
Peel and finely chop the onions.
Put the butter in a saucepan to melt and add the meat. Half fry the meat portions.
Add the onions to them to saute.
Dilute the tomato paste in 2 teacups water and add to the meat.
Add 1 teacup more water as well, cover and simmer for about 1 hour.
Then we need to add the leeks to simmer as well until very soft.
Stop cooking when most of the liquid has been absorbed and its just the butter or a slightly thick sauce left at the bottom of the pan.
Serve.
This boneless pork chop recipe can be made with other meat.
Kali Orexi - Bon Appetit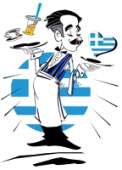 Return from Pork Recipe with Broad Beans to Meat Recipes