LEG OF LAMB RECIPE - ARNAKI VRASTO
This leg of lamb recipe is very popular in Greece and is used very often for different meats. The lamb - arni, is steamed with some vegetables to create a stock.
The stock is then turned into a soup and served along with the meat and vegetables. A very satisfying 2 course meal in one go.
Many times when cooking leg of lamb recipe, an egg and lemon sauce - avgolemono sauce is added to the soup, which is a very traditional Greek recipe and gives a beautifully creamy texture to the soup.
An avgolemono sauce is added to the stock at the end of this recipe. It is very easy to do, just be careful not to have the soup too hot when adding the eggs to it and also to add the eggs slowly, stirring all the time so as not to curdle.
Ingredients
Leg of lamb - @ 1300g
2-3 carrots, thickly sliced
2-3 medium onions, quartered
4-5 medium potatoes, quartered
stick of celery, thickly sliced
rice - 1 tablespoon per person
2-3 eggs, room temperature
juice of 1 lemon
OPTIONAL
endives
chicory
or other greens
Preparation
You need to buy a good piece of lamb.
Wash it and put it in a saucepan with enough water to cover it and add salt. (A good reliable way of choosing the salt quantity is to calculate 1 pinch of salt per serving.)
Skim the surface for the first 2-3 minutes of boiling, then add 2-3 carrots, 2-3 onions, the potatoes and celery.
Leave to simmer.
When the lamb and the vegetables are ready, remove them from the saucepan (keeping the liquid) and keep warm.
Strain (and retain) the liquid to remove any bits and return to the saucepan, along with a bit more water for the soup.
You need to calculate enough rice per person - approx 1 tablespoon per serve, rinse the rice well and add it to the liquid.
Stir it a bit and then cover the saucepan and let it simmer until the rice is cooked.
Remove from the heat.
See this page for precise directions on how to make the egg and lemon - avgolemono sauce.
Meanwhile, beat 2-3 eggs (whole eggs), then add the juice of 1 lemon and beat in.
Add a little bit of warm liquid from the soup to the egg mixture and beat well with a fork.
Bit by bit, (so it won't curdle), add the egg mixture to the soup stirring it in as you go.
Serve the avgolemono soup and present the meat in slices or cubes and garnish with the vegetables and or boiled endives, chicory or greens.
As an alternative to this you can mix 1/2 teacup olive oil to 1/3 cup vinegar, salt and pepper, beat together and use this as a dressing for the leg of lamb recipe.
Kali Orexi - Bon Appetit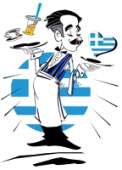 Return from Leg of Lamb Recipe to Meat Recipes