KOKORETSI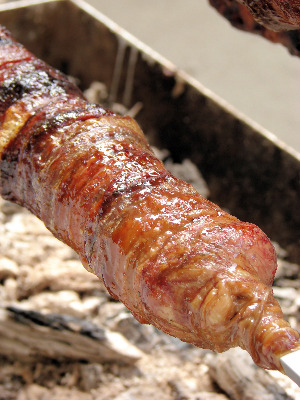 Kokoretsi is a meal that is traditionally made and served at Easter, along with Lamb on the Spit. It is made from the internal organs of the lamb, arranged on a skewer and cooked over the hot coals along with the lamb on Easter Sunday. It can be found at other times of the year in some tavernas. The purpose of this meal was to make use of the organs of the lamb, that was gutted and cleaned ready for the spit, and not to waste any parts of the animal. Kokoretsi is traditionally served as a starter.
I have included this recipe here more out of a reference to what is traditonally eaten at Easter in Greece, rather than as a recommendation for you to try this meal and enjoy it.
Whilst my husband who grew up in Greece, and had it every year does indeed enjoy this meal, I, myself, from an English background, and only living in Greece since my early twenties do not eat nor can even come to cook this meal. But I do realise I come from a culinary background that does not generally eat a lot of internal organs - liver is the most that I have tolerated.
I will say that Kokoretsi and Mayeritsa - a Greek Easter soup, are the only two meals on this entire site that I do not cook or like, but I include them as I am sure there may be many Greeks looking for the recipe or to simply reflect what is a traditional meal.
Also, I have no idea how easy it will be to find the ingredients for this meal in todays age when there are so many health scares about animals organs.
This is an authentic Greek recipe.
Preparation
This recipe calls for liver, spleen, heart, glands and the layers of thin fatty membrane that comes from the lamb intestines.
Wash all the above really well, the intestines have to be washed and turned inside out and washed again.
Cut all the above to a shape of a chestnut. Feed them one by one through the skewer.
When the skewer is full, you wrap the fatty membrane around everything. Then you start dressing everything with the intestines, wrapping carefully around the skewer, covering everything.
This now needs a good amount of salt and pepper all over. Stand the skewer upright for a while for any juices to drip.
When barbecuing, it will need constant low heat for 3-5 hours.
When ready, slide the Kokoretsi off the skewer, cut into portions and season again with salt and pepper.
Serve
Kali Orexi - Bon Appetit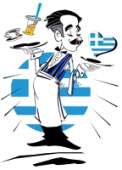 Return from Kokoretsi to Greek Easter