Lamb with Fresh Peas
Arni Me Araka
This Greek food dish of Lamb with Fresh Peas is a delicious meal to make when fresh peas are in season.
Its a fresh, tasty, healthy meal for all the family to enjoy.
Ingredients
1.5kg Lamb
@1.9kg fresh peas in their shells
3-4 spring onions, finely chopped
640g fresh ripe tomatoes
OR 1 tablespoon tomato paste
160g butter
1 tablespoon dill, finely chopped
1 tablespoon parsley, finely chopped
salt, pepper
water
Optional
You can replace the fresh peas with frozen peas (less weight - allow for the shells), although it really will not taste as lovely.
Preparation
Cut the lamb into serving portions, wash and wipe dry.
Put the butter in a saucepan and saute the meat well.
Add the spring onions to the meat and saute as well.
Add the chopped tomatoes, (or tomato paste diluted in a little water), the dill, the parsley and salt and pepper.
Let it simmer on medium heat.
Meanwhile, you can shell the peas.
Half way through, add the fresh peas with about 500ml water and a pinch of salt and pepper.
Cover the pan and let it simmer so that only the butter is left and most of the liquid has been absorbed by the meat. Be careful not to let the peas become too overcooked.
If using frozen peas, you will only need a small amount of water and add the peas about 10 minutes before the end of cooking.

Kali Orexi - Bon Appetit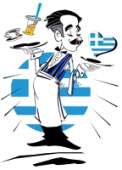 Return from Lamb with Fresh Peas for more Meat Recipes