Octopus Recipes: Octopus with Vinegar and Olive Oil
Octapodi Xidato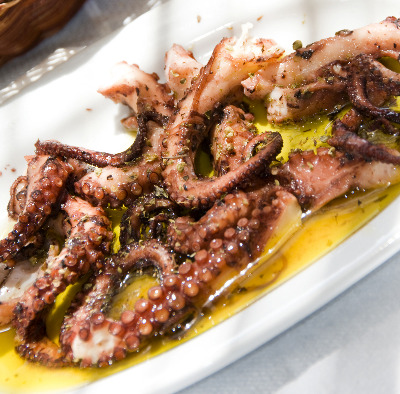 Some Octopus recipes can be quite time consuming, so you will be glad to know this recipe is a very simple, easy way to cook octapodi and is a ideal way to serve with drinks as part of a meze, or as a snack.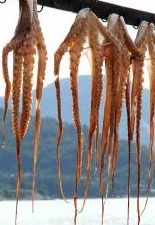 Xtapodi Xidato which means with vinegar, is our family's favourite way of serving this seafood.
In this recipe the oktapodi, along with a very small amount of water is boiled in a covered saucepan in its own juices, that this seafood creates when heated. You must keep the pan covered at all times, which helps create a steam which assists in the cooking and keeping it moist. If you leave it uncovered, the oktapodi will dry out.
With these octopus recipes, if it has been tenderized and cooked for long enough the meat will be tender enough to slice through with a fork.
Ingredients
Octopus - 1 - 2 kg approx
60 ml malt vinegar
To Serve
Extra Virgin Olive Oil
Extra Vinegar - malt or red wine
Sprinkle of dried oregano
freshly ground salt and pepper
This first 3 steps of the instructions are as told to me by my Greek family, with utmost insistence on following these instructions to the letter!
The second way is my modern adaption - follow either way to get the octopus and water from the sink to the pan!
Preparation
Take a large saucepan and place it next to the sink.
Clean and rinse the octopus really well under running water.
Take the octopus away from the water, still dripping, keep your hand under it to collect the water draining from the octopus and quickly place it in the pan with the water in your hands.
OR
Clean and rinse the octapodi under running water. Drain.
Place the octapothi in a large saucepan with about 1/3 - 1/2 cup water.
Put the pan on the lowest heat.
You will have in the pan just the octopus and the water, no seasoning, oil etc
Cover with a secure lid.
It is important you do not open the lid as it will dry out. It will cook in its own juices and the steam created.
Cook for 1 hour per 1 kg weight.
Every 5 minutes or so, take hold of the handles of the saucepan, shake the saucepan to move the octopus.
This is to stop it sticking.
When cooked, remove from the heat.
Open lid, add vinegar quickly, close lid and shake the saucepan about to swirl the vinegar around the octopus.
Leave to stand for 5-10 minutes with the lid on.
When ready to serve, remove the xtapodi, cut into serving pieces, for example each tentacle and place on a serving platter.
Drizzle a good amount of a good quality extra virgin olive oil over the top.
Add extra vinegar as per taste.
Sprinkle with a little amount of dried oregano.
Complete octopus recipes by seasoning with salt and pepper as per taste.
Serve either hot or as the Greeks have it at room temperature.
You can vary the octopus recipes by marinating the octapodi with a mixture of your favourite herbs, garlic, and extra virgin olive oil. Leave for the flavours to infuse and then serve.
This dish is usually placed in the middle of a table for everyone to share and dip into - Greek dining style!
It is very popular as a snack, a meze - it goes very well with Ouzo and other drinks, or as a main meal with rice or Greek potato salad, lettuce salad , beetroot salad.
Kali Orexi - Bon Appetit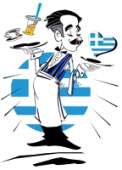 Here are some more popular Greek recipes and tips using Octopus!
Octopus in Olive Oil and Vinegar

Return from Octopus Recipes for more Healthy Fish Recipes