OCTOPUS STEW IN RED WINE
OCTAPODI KRASATO
Octopus Stew produces a rich, luxurious octopus stew with a piquant red wine sauce. Serve with lots of crusty bread for dipping in the sauce, Greek style!
Octopus is a popular and much loved seafood in Greece. They have several ways of preparing octapodi, grilled over hot coals on a bbq, grilled and marinated, served in a pilaf, in a stew, boiled or cooked in red wine.
A base of chopped onions, fried in olive oil, chopped tomatoes sauteed, and then octopus, sliced into chunks, simmer very slowly in red wine and herb sauce to create a delicious, unique octopus recipe that is great to impress friends for a dinner party or other special occasions.
Team it up with a salad, fresh crusty bread and plenty of wine or ouzo!
Octopus Stew is best if you use a large oktapodi rather than many small ones.
You can read here the method the Greeks use to tenderise an octopus.
Ingredients
1 large octopus, 1 kg / 2 1/4 lb
2 large onions, finely chopped
120ml / 4 fl oz olive oil
75 ml / 5 tbspn red wine vinegar
450 ml, 16 fl oz dry red wine
1/2 kg / 1 lb 2 oz fresh tomatoes, peeled and chopped finely
1 sprig rosemary, finely chopped
1 bay leaf
1 tspn black pepper, freshly ground
1 tspn nutmeg
1 tspn cinnamon
2 cloves
2 tbspn tomato puree
Preparation
Ensure the octopus is thoroughly cleaned.
Place the whole octopus in a large saucepan over a medium heat.
Do not add anything else to the pan, no oil, etc
The octopus will turn red.
Once it has gone red, remove the octopus from the pan and chop the tentacles into approx 1 inch or 2.5cm lengths.
Cut the body into similar size pieces.
Heat the olive oil in the saucepan.
Add the chopped octopus and cook until it browns slightly.
Add the chopped onions and fry until a golden colour.
Add all the rest of the ingredients to the saucepan.
Stir through and cover.
Simmer as a stew for about 2 hours.
Remove the lid and cook for about 30 minutes more to reduce the stew to a thick sauce.
Once the octopus is tender and the sauce has thickened it is ready to serve.
This dish can be left to cool a little to room temperature which will intensify the flavours.
Serve the stew with rice or couscous, with a light green salad and crusty bread.
Kali Orexi - Bon Appetit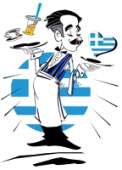 Here are some more popular Greek recipes and tips using Octopus!
Octopus in Olive Oil and Vinegar

Return from Octopus Stew in Red Wine for more Healthy Fish Recipes