FISH SAUCE RECIPES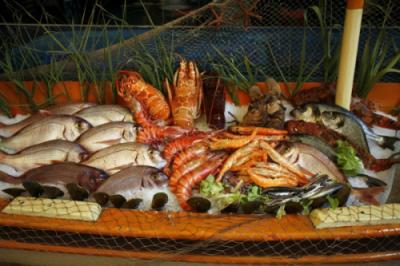 The best fish sauce recipes are the ones that are simple, use the best quality ingredients and enhance the flavour of the fish rather than smother it.
If the sauce is too strong, it will overpower the flavor of the psari.
This is one rule that is applied to cooking seafood in Greece and so you will always find great fish meals, and be amazed at how tasty and fresh they are!
We have many recipes on how to cook your seafood.
Here are some Greek Sauces for Fish
Oil and Lemon - Latholemono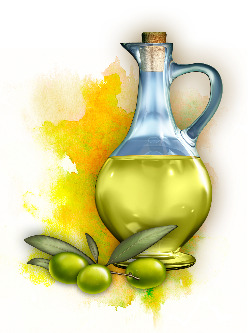 This is very simple. Use the best quality extra virgin olive oil and freshly squeezed lemon juice.
4 spoons of oil to 1 spoon lemon juice.
Season with freshly ground salt and pepper.
Whisk until it has amalgamated, and looks opaque.
You can add more or less of either until it thickens slightly and turns opaque.
You can flavour this dressing with herbs, such as oregano, parsley, thyme, dill or chives, depending on the recipe.
This lemon oil dressing is also wonderful with steamed vegetables.
The Greeks will drizzle this dressing over their cooked fish. You can alternatively serve it in a small bowl on the side.
Avgolemono - Egg and Lemon Sauce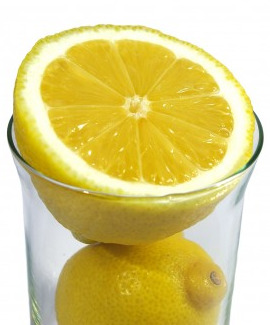 This very distinct sauce is the most popular sauce in Greece, for adding to meals.
It's the Greek way of making a sauce creamy - much healthier than using cream!
These are the instructions for making Egg and Lemon sauce - Avgolemono
This is made from a stock and would normally be added to a soup to give it a tangy, citrus, creamy taste.
It can be used in a fish soup, as well as most meat soups, such as a Chicken Soup.
You can also use it in several Greek dishes such as Fricassee.
You can make this soup and serve as a starter before a main fish meal.
Here is a recipe for Greek Fish Soup with Avgolemono.
Marinata - Savoro - Savore
In the Marinata recipe, first the fish is fried.
Once removed, a rosemary and garlic infused sauce is made in the frying pan, simmered to thicken.
The fish is then added back in for a few minutes to absorb the flavours of the sauce and to be coated in this slightly creamy sauce.
In the Savoro or Savore recipe, which is really just a variation of the above, in addition chopped tomatoes are added to the pan and simmered down into a thick sauce.
Saganaki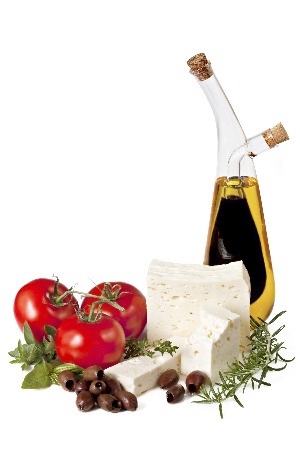 Saganaki is a sauce that is made and served with prawns or shrimps.
With Saganaki, the prawns are cooked in the fish sauce recipes to absorb its flavours. Onion and garlic are sauteed, chopped tomatoes and oregano are added and simmered to a thick sauce.
The prawn or shrimp are then added to absorb the flavour.
Near the end, feta cheese is crumbled over the top and cooked just long enough to melt into the sauce, creating a thick, rich, luxurious sauce for seafood.
Delicious!
Here is our Shrimp Saganaki recipe
Skordalia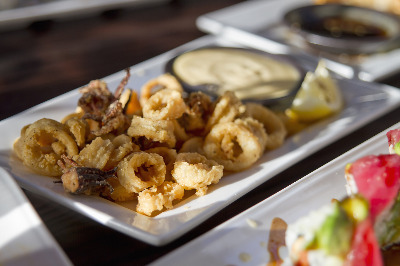 Skordalia is a garlic sauce or dip that is very popular in Greece.
It fits in nicely with fish sauce recipes as it is often served as an accompaniment to fish dishes, especially fish cakes and other meals made from cod.
Skorthalia is made from either mashed potatoes or bread soaked in water, then squeezed dry.
These are then put in a blender with plenty of garlic and extra virgin olive oil to create a slightly runny sauce.
There may be other flavourings added.
You can read our Skordalia Recipe
Kali Orexi - Bon Appetit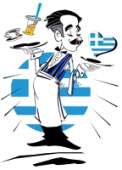 You can use these Fish Sauce Recipes with our Greek Fish Recipes