FISH SOUP RECIPE
KAKAVIA
This Greek fish soup recipe is a complete 2 course meal, that is very popular in Greece as well as many other Mediterranean countries. It has a subtle, delicate, flavour, sweet tasting fish with a flavoursome soup. It is the best comfort food, especially when you're feeling ill and need picking up.
There is not one "true" recipe for this dish. There are many variations from all areas of Greece.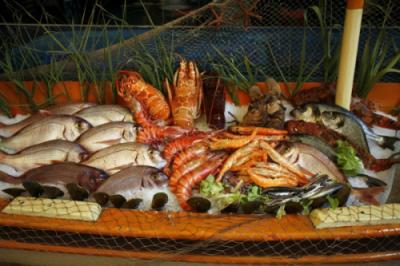 In Greece this dish is called Kakavia, although it's often referred to as Psara Soupa which literally means Fish Soup.
Kakavia is named after the 3 legged cooking pot that was used to prepare this dish. It was taken along on fishing expeditions by the ancient Greeks to cook their meals whilst away from home.
Most of the Mediterranean bordering countries have their own fish soup recipe - the French have bouillabaisse, the Italian and Spanish also have their own recipes, and although each country claims theirs to be the original, considering they all relied heavily on fishing it is hardly surprising that they all created a fish soup recipe.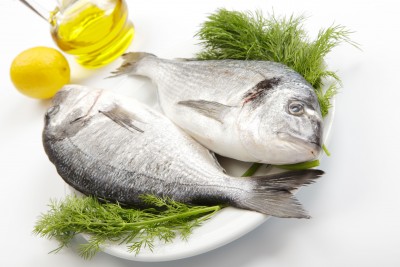 You can imagine though, the ancient Greeks creating a simple soup out of the fish that had been caught that day!
You can use any type of firm white fish that doesn't crumble easily, such as snapper, monkfish, rascasse or John Dory. Use different types of fish to add flavour to the soup.
Ingredients
1kg / 2 1/4 lb smallish whole fish, scaled, cleaned and gutted
6-8 cups of water
120ml / 4 fl oz / 1/2 cup olive oil
freshly ground salt and pepper
4 carrots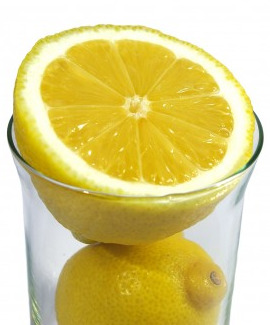 2 celery
3 potatoes
2 -3 courgettes - optional
1 large onion - quartered
1 tbspn chopped parsley
pinch of saffron threads
1 cup rice
juice of 1 lemon
Optional
Avgolemono Sauce
2-3 eggs
juice of 2 lemons
Preparation
Put all the vegetables and onion in a large deep saucepan.
Add the water, adding more if necessary to ensure the vegetables are covered in water.
Add the oil, salt and pepper, saffron and parsley.
Bring to the boil, then simmer for 30-40 minutes.
Add the fish to the pan and boil for about 10-15 minutes.
The fish needs to be just cooked, but not falling apart.
Gently remove the fish from the pan, put aside and keep warm.
Scoop the vegetables from the broth, put aside and keep warm.
Use a colander or sieve and drain the liquid into another saucepan to remove any bones, etc
Add the rice and boil.
When the rice is cooked, remove from the heat, add the lemon juice and using a wooden spoon, gently stir through.
To Serve You can either serve the fish and vegetables on one plate and serve the soup separately in a bowl. Alternatively, place the fish and vegetables in a bowl and pour the soup over the fish. Serve with plenty of fresh, crusty bread!
Variations to this fish soup recipe
An alternative and very popular way to finish off this Greek fish soup is to make an avgolemono sauce and mix it into the soup.
Complete the instructions as above up to and including step 10 where you add the rice.
Whilst the rice is cooking, prepare the Avgolemono Sauce recipe as described on this page.
Slowly pour 2-3 tablespoons of this soup to the avgolemono, mix together, then pour the egg and lemon mixture back to this pan of fish stock.
Turn off the heat and shake the pan to mix the egg and lemon sauce through.
Serve as above suggestions.
Variations to Fish Soup Recipe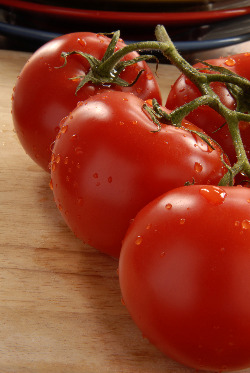 A slightly different version is to use tomatoes in the stock.
Use the same ingredients as above, but do not use saffron or rice.
Add 1/2 kg / 1 lb 2 oz of chopped tomatoes at the same time as the other vegetables.
You may need slightly less water, but still enough to cover all the vegetables.
Continue to step 6 (fish not falling apart).
You do not sieve this version.
You can remove the fish and vegetables and serve separately or all together.
Add the lemon juice just before serving.
You would not use the Avgolemono Sauce with this variety.
Kali Orexi - Bon Appetit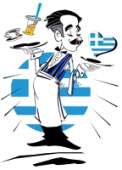 Check out our other Greek Soup Recipes
Return from Fish Soup Recipe for more delicious Healthy Fish Recipes