OVEN BAKED FISH RECIPES
PSARI PLAKI
Psari Plaki - the name of this oven baked fish recipes actually describes the meal!
Psari in Greek means fish. Plaki means 'spread out' or 'flat.'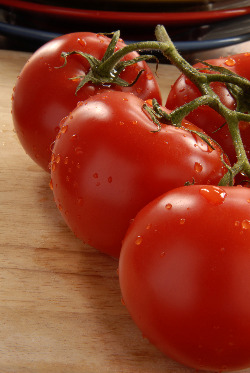 A plaki dish consists of a fish laid flat whilst cooking in a traditional sauce of garlic, parsley, onions and tomatoes. You can use either smallish whole fish, larger ones cut up, steaks or cutlets. Choose any type of fish, from mackerel, cod, snapper or haddock as an example.
This is a very easy fish recipes meal to make, it's tasty, and adds a little variety to the usual plain fish dishes. You can experiment and adapt this oven baked recipe to your liking, adding different ingredients, spices or herbs to the tomato sauce!
The wonderful aroma of succulent, juicy fish baking in the garlic and tomato sauce will be wafting from your kitchen telling everyone that dinner is ready! It's just one of those delicious smells you always associate with summer dining!
Serves 4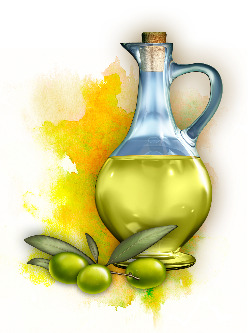 Ingredients
1 kg / 1 lb 2 oz fish - whole or cutlets
100 ml / 3 fl oz / 1/3 cup olive oil
2 onions, sliced finely
2 cloves garlic, chopped finely
4 large tomatoes, peeled and chopped roughly
3 tbspn fresh parsley, chopped
1 tbspn dill, chopped finely - optional
125 ml / 4 fl oz / 1/2 cup white wine
freshly ground salt and pepper
stoned olives - optional
juice of 1 lemon
Optional - You can also add 1/2 celery, finely sliced to the sauce mixture.
Preparation
Heat the olive oil in a large frying pan.
Add onion and garlic and fry until golden colour.
Add tomatoes, parsley, dill and white wine.
Season with freshly ground salt and pepper.
Cook for 10-15 minutes until soft.
Place the fish out flat in an oiled baking dish.
Drizzle the lemon juice over the fish.
Spoon the tomatoe sauce mixture evenly over the top of the fish in the baking tray.
Add the stoned olive to the sauce if desired.
Bake in a preheated oven, 180 C / 350 F / gas 4 for approx 30 minutes or until the fish is baked.
Kali Orexi - Bon Appetit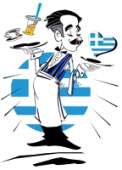 Here are some more Oven Baked Fish Recipes you may enjoy!
Psari Spetsiotiko - Fish Baked in the Style of Spetses
Baked Sardines with Lemon and Oregano
Return from Oven Baked Fish Recipes to see more Tasty Greek Fish Recipes