BAKED FISH RECIPES
BAKED SARDINES WITH LEMON AND OREGANO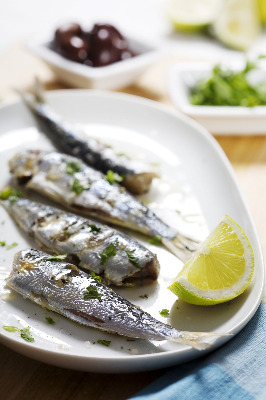 There are many baked fish recipes in Greece, it is a popular method of cooking fresh fish and its easy too!
Baked sardines with lemon and oregano - Sartheles Lathoriganes is the perfect summer fish dish, easy and quick.
The aroma of freshly baked fish wafting from the kitchen will have everyone asking what's on the menu.
Serve with a Greek salad and fresh crusty bread.
Ingredients
About 12 large fresh sardines, cleaned and gutted
2 lemons
5 tablespoon extra virgin olive oil
1 tablespoon dried oregano ( or 4 tblspns fresh oregano, chopped)
freshly ground salt and pepper
lemon wedges to serve
Preparation
Preheat the oven to 370F
Cut the heads off the sardines and lay the fish in a single layer in a baking tray.
Cut one of the lemons into thin slices and place the slices around the fish.
Squeeze the juice of the second lemon over the fish in the tray.
Drizzle the olive oil over the fish.
Sprinkle the oregano liberally over the fish and finish with freshly ground salt and pepper.
Bake the sardines in a pre-heated oven for between 20 - 30 minutes or until the fish are tender.
Serve with lemon wedges.
This popular way of cooking fish in Greece, with lemon and oregano is also used for large whitebait and also garfish.
Kali Orexi - Bon Appetit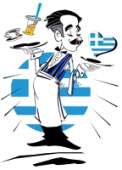 Return from Baked Fish Recipes - Sardines for more Healthy Fish Recipes