CHICKEN WITH ORZO
KOTOPOULO YIOUVETSI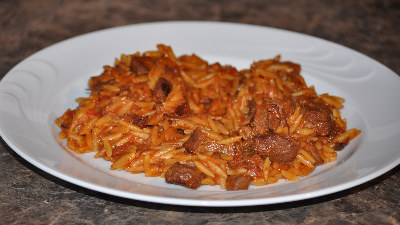 Chicken with orzo is a wonderful Greek recipe of tender roast chicken cooked with orzo - which is a small, rice shaped pasta, in a tomato sauce.
The wonderful subtle flavour of this pasta baked in the oven with the meat, makes this greek meal of Yiouvetsi a very popular dish. This is one of my favourite meals and I have to stop myself from making it too often! Luckily my family love it almost as much as me.
Orzo is also known as risoni. In Greece it is called Kritharaki.
Ingredients
1.5kg chicken, cut into portions
1 teacup olive oil
640g fresh tomatoes
500g orzo/risoni
1 teaspoon dried oregano
salt and pepper
water
Preparation
Wash and clean the chicken.
Cut into portions and sprinkle salt and pepper over the chicken.
In a large baking tray add plenty of olive oil, you may need to add more than 1 teacup depending on the size of your tray.
Grate the tomatoes over a bowl and keep.
In the tray add the chicken, and 1/3 of the tomatoes and mix all in.
Put in the oven on a medium heat and roast until the chicken is cooked.
Take the tray out of the oven and remove the chicken.
Add the rest of the tomatoes to the tray along with the orzo, 4-5 teacups of boiling water, oregano and salt to season.
Stir through.
Replace the chicken in the tray and return the tray to the oven.
Keep a check on this and give it a stir regularly to make sure the pasta doesn't stick to the bottom of the pan and also that the liquid doesn't dry up. If it does, add some more water, a little at a time, until the pasta is cooked. Be careful not to overcook the pasta.
The orzo should be coated in a rich tomato sauce with just a little runny sauce left over.

Serve with parmesan cheese and a spring green salad.
You can adjust this meal to use beef or lamb instead of chicken. It is served in Greece with all meats. If using lamb, use a very lean piece and cut off all visible fat.
This recipe can be cooked in a large casserole saucepan on the stovetop. It is suited more to chicken and is ideal for smaller quantities. You will probably need to add a little water to the chicken in the beginning and let it simmer until cooked.
When you add the pasta, check the water levels, and stir often as it is more likely to stick on the stovetop, regulate the heat to low to not burn.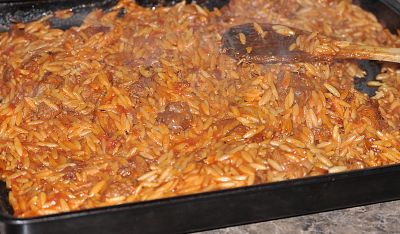 In Greece, they may sprinkle a little Greek cheese such as Kefalotiri or Graviera over the pasta. Parmesan is also good to use!
Kali Orexi - Bon Appetit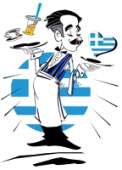 Click here to buy Orzo or Risoni pasta and other Greek Pasta for recipes such as Pastitsio and Macaronada!
Return from Chicken with Orzo for more Greek Chicken Recipes