Mayeritsa
Mayeritsa is the traditional soup that is made to be eaten after the midnight resurrection service on Easter Saturday which is when the period of lent is over. It will have been prepared in the early evening and then close to midnight everyone goes to the local church and there will be masses of people outside the church to hear the words of the priest. Once this is over, folk will head home, to a bowl of mayeritsa.
There are a couple of purposes to this meal. For one, after forty days of fasting from meat, people are keen to have a substantial meal and as is traditional on the Easter Sunday, a whole lamb on a spit is roasted over hot coals for a great celebratory feast. In order to prepare people's bodies (stomachs) for the large amount of meat after an abstinance, this soup is designed to get the digestion system used to meat protein again.
The other reason for this soup is to use up many of the parts of the lamb that would otherwise go to waste and are consequently put in this soup. This dates back to historic times when people were very poor, they would still slay a lamb for celebrating Easter, yet they would make use of every part of the lamb that was edible.
I have included this Mayeritsa recipe here more out of a reference to what is traditonally eaten at Easter in Greece, rather than as a recommendation for you to try this meal and enjoy it.
Whilst my husband who grew up in Greece, and had it every year does indeed enjoy this soup, I, myself, from an English background, and only living in Greece since my early twenties do not eat nor can even come to cook this meal. But I do realise I come from a culinary background that does not generally eat a lot of internal organs - liver is the most that I have tolerated.
I will say that Mayeritsa and Kokoretsi - another Easter delicacy, are the only two meals on this entire site that I do not cook or like, but I include them as I am sure there may be many greeks looking for the recipe or to simply reflect what is a traditional meal.
Also, I have no idea how easy it will be to find the ingredients for this meal in todays age when there are so many health scares about animals organs.
This is an authentic greek recipe. Should you wish to make a greek Easter soup as close as possible to the traditional recipe, I suggest replacing some of the inner organs with some chopped up lamb.
Ingredients
lambs liver, heart, lung, intestines
1 onion, finely chopped
2 tablespoons spring onion, finely chopped
2 tablespoons dill finely chopped
2 lemons
2-3 eggs
salt, pepper
4 level tablespoons butter
lamb stock - approx 2 cups per person
rice - 1 tablespoon per person
Preparation
Wash all the organs really well, turning the intestines inside out to wash thoroughly.
Add them, one at a time to a saucepan of boiling water. Boil for 1 minute, then remove with a slotted spoon and put aside to cool slightly. Repeat this with all the organs.
When they have cooled slightly, chop up into small pieces.
Melt the butter in a saucepan and fry the onion to take a blonde colour.
Add the spring onions and the organs.
Mix everything together well, then add the dill, salt and pepper. Add the stock and bring to the boil.
Add the amount of rice according to the number of people to serve. Simmer.
When the rice is ready, remove the saucepan from the heat.
For full instructions on how to make the Avgolemono Sauce Click Here.
In a bowl, beat the eggs together well until light and frothy.
Add the juice of the lemons and beat in well together.
Using a ladle, slowly add about 1 tablespoon of the soup to the eggs, mix in and then add two or three more spoonfuls, one at a time, mixing in well before adding the next.
We want to slowly bring the egg mixture to the temperature of the soup without curdling.
Now pour the egg mixture into the soup and stir very gently until just mixed in.
Do not mix too much or return to the heat.
Serve Mayeritsa after midnight on Easter Saturday with tsoureki bread and red eggs.
Adding the egg and lemon sauce - avgolemono, gives this soup a creamy, citrus flavour which heightens the flavours of this meal.
Kali Orexi - Bon Appetit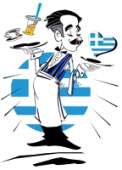 Return from Mayeritsa to Greek Easter