ROAST CHICKEN RECIPE WITH LEMON AND GARLIC
KOTOPOULO FOURNOU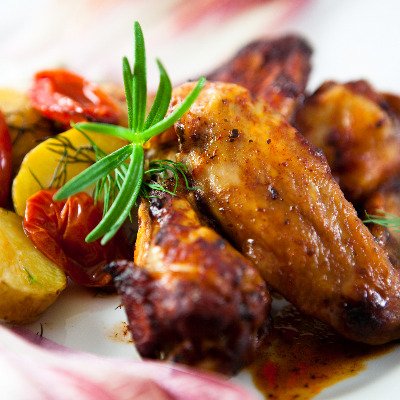 Roast chicken recipe is a popular meal in Greece, and using lemon, herbs and garlic to infuse the meat is typical of Greek cooking.
Lemons are used in abundance to flavour foods, especially meat, along with the herbs and garlic turn a plain piece of meat into a deliciously tasting meal.
This Baked Chicken recipe would go well teamed up with
Briami - Roasted Vegetables, in which case omit the potatoes with the chicken as there are potatoes in with the vegetables, or with a side serving of spinach rice - Spanakorizo.
Ingredients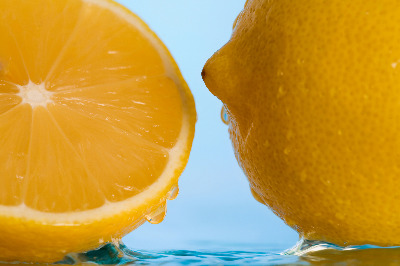 1 large chicken
potatoes
2 lemons
salt
freshly ground black pepper
oregano
1/2 - 1 cup olive oil
5 cloves garlic
Preparation
Clean the chicken inside and out.
Place on a greased baking tray.
Peel potatoes and cut them up into quarters, or slightly smaller.
Pour the juice of 2 lemons over the chicken and rub into the chicken.
Do the same with a good quantity of salt and pepper, rubbing it into the chicken.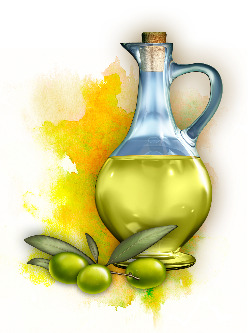 Sprinkle the oregano over the chicken. You can also use dill or rosemary.
Peel the garlic cloves, chop finely and rub over and inside the chicken with the garlic. You can adjust the garlic to more or less depending on your preference for garlic.
Pour the olive oil over the chicken.
Place the baking tray into a preheated oven - 180C for about 1 1/2 hours.
Halfway through turn the roast chicken and toss the potatoes in the juices to absorb the flavours.
Serve.
Kali Orexi - Bon Appetit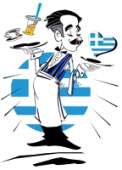 Return from Roast Chicken Recipe for more Greek Chicken Recipes